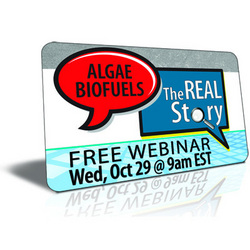 Algae Biofuels: The REAL Story
Singapore (PRWEB) October 21, 2008
As nations re-assess their energy priorities, what role will Algae play? A burst of recent industry activity shows a renewed interest in the production of algae as a source of renewable energy. Proclaimed as one of the most promising feedstock for Biofuel, Algae is enjoying unprecedented and valuable publicity.
However, Algae Biofuels may not be quite ready for commercial production. In fact, according to one industry expert, future development faces three significant obstacles:
1) The relatively high costs of production;
2) The current market focus on Algae production for the health food market and
3) The lack of biological know-how for commercial scale Algae biofuel production.
So what is the correct and commercially viable path for Algae Biofuels to ultimately take? Today's current realities will be explored at the upcoming "Algae Biofuels: The REAL Story" webinar. This free webinar will air Wednesday, 29 October at 9 a.m. US Eastern Time, 1 p.m. GMT, 6.30 p.m. India, 9 p.m. Singapore/Hong Kong. The webinar is part of the upcoming Algae World 2008 meeting in Singapore on November 17 and 18.
"Algae Biofuels: the REAL Story" will be moderated by Dr. Mark Edwards, Director of GreenIndependence.org and author of the successful book "Green Algae Strategy." Dr Edwards' book expertly examines the value chain and key strategies the industry must adopt to successfully commercialize Algae Biofuels production. All participants at Algae World 2008 in Singapore will receive a free copy of "Green Algae Strategy."
As Dr. Edwards shared, "Algae hold promise for high productivity for biofuels without the need for cropland, freshwater or fossil fuels. Algae use cheap and abundant inputs, sunshine, wastewater and CO2."
The webinar will provide answers and insights into the following key questions surrounding Algae Biofuels including:

How doe Algae rate as feedstock compared to other biofuels?
Does Algae really have a Superior oil yield compared to other biodiesel feedstock?
Can Algae be cultivated with low volumes of fresh water?
Is Algae CO2 Neutral?
Does Algae have the capacity to process nitrogen and carbon dioxide from waste water and Industrial Emissions?
Does Algae cultivation require a substantial amount of land?
Can Algae be fed with water from salt aquifers or the sea/ocean?
"During the webinar", said Dr. Edwards, "I plan to touch on the Facts on biofuel productivity, the Fictions that impede the industry and the Frictions and Challenges that slow algal industry growth and development."
Also speaking at the webinar is Algae World 2008 panelist Dr. Avigad Vonshak, Director of the Jacob Blaustein Institutes for Desert Research (BIDR), the research arm of Ben-Gurion University and the only non-US laboratory involved in the US Department of Energy's Aquatic Species Program.
According to Dr. Vonshak, who shared his views on the commercialization challenges, "There is no doubt that algal biomass represents a viable source of renewable energy. Yet these challenges must be overcome for the commercial success of Algal Biofuels."
He went on to add, "The further development of this industry is being held back by the relatively high costs of production, the focus on health food market, and the lack of biological know-how."
Webinar participants can contribute and help shape this interesting discussion. Participants can pre-submit questions to Dr. Edwards and Dr. Vonshak, which will be addressed during the 30 minute question and answer session.
To discover where Algae stands as a biofuel--both today and tomorrow--confirm your registration now, it's free by registering here: http://www.futureenergyevents.com/algae/webinar/
About Algae World
ALGAE WORLD 2008 is an annual conference providing objective insights and viewpoints on the commercialization of Algae Biofuels, as well as the latest advances and challenges in Algae cultivation, harvesting and processing. Algae World is organized by the Centre for Management Technology, whose mission focuses on providing access to the latest technology and business intelligence through high profile alternative energy conferences.
# # #