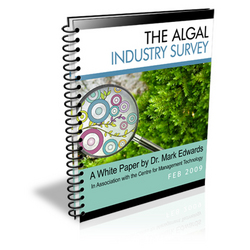 Respondents were generally positive about the future of the industry and optimistic about Algae's potential to solve critical social and economic problems.
Rotterdam (PRWEB) February 18, 2009
The economics of oil and alternative energy sources like Algae Biofuel continue to dominate the news. Right now there are several companies currently working on ways to produce energy and oil from Algae. But a new white paper, based on findings from the inaugural Algal Industry Survey, reveals there are a number of issues that need to be addressed before the industry can move forward.
Dr. Mark Edwards, the brains behind the survey, states that "The Algal Industry Survey was designed to provide a baseline of information about the emerging industry...and to assist in creating strategy for research, development and demonstration priorities."
The path to finding profitable ways of developing Algal Production has been a secret one at times as most companies protect their research and production methods. This has hindered the free flow of Algae Biomass news and made it difficult for new firms to build on industry successes or learn from industry mistakes.
In addition, the algal industry has seen its credibility suffer because of grandiose claims made by companies looking for investment capital. Some firms avoid reporting their actual Algae production figures to boost their chances of securing funding.
Commenting on survey findings, Dr. Edwards goes on to say, "Improved information on industry needs will support industry participants and provide critical information needed for public policy decisions and support."
Participants in The Algal Industry Survey included scientists, project developers, academics and investors who attended the Algae World 2008 conference in Singapore this past November. The findings from the survey shed important insight into how the fledgling Algal industry can be jump-started.
Among the key concerns addressed in this white paper:

What are the critical issues for the algal industry
Recommendations for moving the algal industry forward
What will be the top three Biofuels made from Algae
What feedstocks make the most sense for Algae oil production
Dr. Edwards is hopeful about the future of Algae Biofuels and Algae energy noting that survey participants see a bright future as well. "Respondents were generally positive about the future of the industry and optimistic about Algae's potential to solve critical social and economic problems."
The development of Algae Biofuel as a viable source of alternative energy will require that research drill down on production and supply chain issues as well as issues of social and global economic development. For example, is Algae the best feedstock option? Can Algae help relieve some of the world's most pressing challenges, including climate change and the need for alternative fuels, water remediation, carbon capture and recycle, and animal feed?
These topics and more will be discussed at the upcoming Algae World 2009 conference, scheduled for April 27-28 in Rotterdam. To register for this critical event, visit http://www.futureenergyevents.com/algae/attend/ .
To download a free copy of the inaugural Algal Industry Survey White Paper visit http://www.futureenergyevents.com/algae/survey/ .
About Algae World:
ALGAE WORLD 2009 is a conference dedicated towards providing objective insights on the Business opportunities, as well as the latest advances and constraints in Algae cultivation, harvesting and processing. Algae World is organized by the Centre for Management Technology whose mission is to provide access to the latest technology and business intelligence through high profile alternative energy conferences.
About Dr. Mark Edwards:
Dr. Mark Edwards is the director of GreenIndependence.Org, an organization dedicated to bringing Algae's full promise to the world. Dr. Edwards is widely considered an "Algae evangelist," and his recently released book "Green Algae Strategy" has enjoyed rave reviews from peers and industry experts.
###