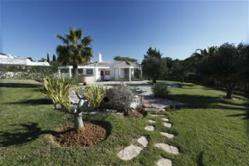 ..a truly exceptional property with beautiful gardens and its own private pool.
London, UK (PRWEB) December 01, 2011
Whilst Portugal has been getting into the news lately for all the wrong reasons, it remains a popular destination for holidaymakers looking for sun, sea, good food - and invariably the odd round of golf.
Note that the word "culture" is missing from the sentence above, which isn't to say that Portugal doesn't have any (in fact it has quite a lot!), but simply highlights what most foreign visitors are looking for when they visit Portugal. The area that delivers these things in spades is The Algarve, and it's interesting to note that while UK tourists represent only 9.3% of visitors to Portugal as a whole, they make up almost 25% of those to The Algarve [source: Statistics Portugal 2010]. It's easy to see the attraction - pristine white beaches, temperate climate, authentic local restaurants and what are acknowledged to be some of the best golf courses in Europe.
Ian Locke from Internet-Cottages says Algarve villas are a logical progression for the holiday rentals site: "We've established a loyal customer base for our properties in the UK, France and Spain, but we recognise that people don't always want to go to the same country for their holidays. The Algarve is one of the most popular villa destinations, so it just makes complete sense for us to be able to offer it as an option for our customers - and with the current economic situation in Portugal, it offers great value!"
The villas offered by Internet-Cottages are located on the outskirts of the typical small town of Guia, which is a lovely place for an Algarve holiday. You can relax and enjoy your private pool or explore the local area and the fantastic beaches by day, then walk to a selection of restaurants in the evening. The villas are in the Quinta dos Alamos community which is just one kilometre from the town centre and its famous Algarvian restaurants, one of which is where the Portuguese dish of chicken piri piri was created. There are also superb seafood and grill restaurants, plus an authentic local bar in the square. Although it's 6 kilometres from the coast, it's only 5 mins by car to Gale Beach.
The smallest villa, ideal for a small family, is cosy Casa Azul with its own private pool and garden and two bedrooms to sleep up to four people. Details > Algarve Villa Private Pool 4 people At the other end of the scale is Casa dos Catos - a quite exceptional property set in beautiful gardens, again with a private pool, and four bedrooms to sleep up to eight. Details > Holiday Villas Algarve 8 people
Internet-Cottages is a directory of privately owned holiday rentals in the UK, France, Spain and now Portugal. Bookings are made directly with the property owner or local manager. For more details about the Internet-Cottages range of Algarve villas or this press release, please contact:
Ian Locke
Tel: +44 207 193 9407
Email: emailus(at)internet-cottages(dot)com
###