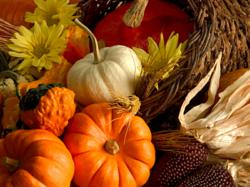 Our Chef was inspired to bring people together over the long weekend and we look forward to serving families and friends their Thanksgiving dinner this coming weekend."
St. Andrews, New Brunswick (PRWEB) October 01, 2012
The Algonquin Resort will be celebrating Canadian Thanksgiving from October 5th to 8th. With a traditional holiday menu, guests and residents of St. Andrews New Brunswick can enjoy the long weekend with friends and family at the historic seaside retreat.
"Thanksgiving is a time to get together and give thanks for all the wonderful things in our lives from family to friends," says Director of Sales Kathleen O'Halloran. "Our Chef was inspired to bring people together over the long weekend and we look forward to serving families and friends their Thanksgiving dinner this coming weekend."
The St. Andrews hotel will be offering a festive three course meal at the Clubhouse at the Algonquin Golf Course from Friday October 5th to Monday October 8th. Tickets for the dinner are $40 per person and reservations are required. Guests can reserve their seats by contacting the Reservations Department at 1.855.529.8693.
"This will be the last long weekend of the season as we will be closing our doors for extensive renovations," states O'Halloran. "We will be opening our doors under the Marriot Autograph Collection in mid-2013."
The St. Andrews hotel will close their doors for the 2012 on October 22nd and will reopen under Marriot Autograph Collection in mid 2013. The Algonquin Resort will see extensive restorations and renovations. For more information on the renovations at the New Brunswick resort, visit the Algonquin online.
About the Algonquin Resort:
The Algonquin Hotel & Resort overlooks the picturesque Passamaquoddy Bay from St. Andrews-by-the Sea, New Brunswick, Canada. Now in its second century of service, the Algonquin is home to the award-winning seaside Algonquin Golf Course, adjacent to the Bay of Fundy and home to two of the top ten golf tees in Canada. The course is ranked among Canada's top 100. The St. Andrews hotel also features 51 guest rooms, dining at the Club House and a New Brunswick golf course.