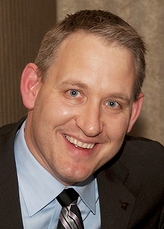 I look forward to getting to know the people, visitors and loyal guests of this community and settling in with my family.
St. Andrews, New Brunswick (PRWEB) January 07, 2013
New Castle Hotels & Resorts is pleased to announce the appointment of Tim Ostrem as the General Manager of the Algonquin New Brunswick Resort. With over 23 years of hospitality service in a variety of competitive markets, Tim has a wealth of experience leading multiple award-winning teams in the industry.
"I couldn't be more thrilled to join the Algonquin team. I've already fallen in love with the beautiful and peaceful town of St. Andrews, New Brunswick," states newly-appointed General Manager Tim Ostrem. "I look forward to getting to know the people, visitors and loyal guests of this community and settling in with my family."
Bringing a wealth of knowledge to the St. Andrews hotel, Tim has experience working with upscale brands including Fairmont, Westin, Delta and the Cambridge Suites Hotel in Toronto. While leading the team at the Cambridge Suites Hotel, Tim and his team were recognized by TripAdvisor as one of the Top 25 Hotels in Canada in 2012.
"We look forward to working with Tim as he leads the team at the iconic seaside resort. His knowledge, experiences and passion will make an incredible impact on the launch of the new Algonquin Resort, under Marriot's Autograph Collection," says Guido Kerpel, the Vice President of New Castle Hotels and Resorts Canadian Region.
The New Brunswick hotel is currently undergoing a multimillion-dollar restoration and upgrade and is scheduled to re-open under Marriott's Autograph Collection in summer 2013. Located in quaint town of St. Andrews New Brunswick, the iconic Algonquin Resort will embody contemporary classic elegance while offering all the modern amenities for guests to enjoy.
To view renovation details, like the Algonquin Resort on Facebook or visit the resort online.
About the Algonquin Resort:
The Algonquin Resort overlooks the picturesque Passamaquoddy Bay from St. Andrews-by-the Sea, New Brunswick, Canada. Now in its second century of service, the Algonquin is home to the award-winning seaside Algonquin Golf Course, adjacent to the Bay of Fundy and home to two of the top ten golf tees in Canada. The course is ranked among Canada's top 100. The hotel also features 234 guest rooms and suites, as well as four dining options ranging from formal to golf-course casual and the New Brunswick Spa.