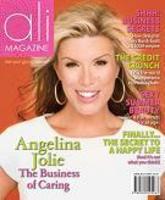 We've been astonished by the response
Los Angeles, CA (PRWEB) July 16, 2009
New publication Ali Magazine has unexpectedly touched an emotional chord with its readers in the June/July issue with its "Women Who Out-Earn Their Husbands" story (p.24).
"We've been astonished by the response," says Ali Magazine editorial director and founder Ali Brown, "but, in retrospect, we probably shouldn't have been. Thirty-five percent of entrepreneurial women out-earn their husbands today, and the number is expected to climb to more than 50% in a few years . It's a fact that changes the dynamic of a traditional marriage, and it can, frankly, be hard for some men to take. A study by the University of Virginia states that couples where the woman out-earns the husband may be more likely to divorce. When you add to that the number of men who are currently out of work and relying on their wives to support the family right now, it's no wonder so many women have responded."
Like many stories in Ali Magazine, the article gives examples from real women on how they worked through this issue in their marriages as well as tips from experts. This particular story was inspired by Brown's one-on-one work with her coaching clients who are usually the top earners in their families -- as well as her own dating experience.
"Men are more likely than women to see money as an indicator of self-worth. The richer you are, the better, smarter person you must be," says Brown. "Women primarily see money as security, even though both sexes find value and reward in work."
Other stories in the current issue of Ali Magazine also reflect the business, life and lifestyle issues faced by many women entrepreneurs. From "16 Quick Fixes to Change Your Bad Business Behaviors" (p. 85) to "20 Things Every Woman Should Try" (p. 100) to "Ivanka Trump - Lessons Learned from Her Father" (p. 26), the magazine looks at women entrepreneurs holistically.
"Unlike men, who tend to be compartmentalized, women business owners are integrated people," Brown explains. "At any given moment they are running their businesses, taking care of their children, thinking about what to wear or how to express their unique style in their homes and work lives. We've created Ali as a magazine for women, by women, to foster their own, powerful, unique feminine approach to building and growing a successful enterprise…and life," says Brown. "Women business owners are the fastest growing segment of start-up companies and yet the magazine marketplace approaches them in a fragmented way - until now."
"There's nothing else out there like Ali Magazine," Brown emphasizes. "We're focused exclusively on giving female entrepreneurs exactly what they need to succeed. From blueprints for creating a successful business from home, to ways to spot emerging business opportunities in the face of this recession - and, then, everything you need to look and feel good while achieving your dreams - we're packing every issue with the information and inspiration they've been craving."
"Even though we are a new publication, we already have a subscriber base of over 40,000 readers and are growing fast," added Brown.
About Ali International:
Ali International LLC (http://www.alibrown.com) is devoted to taking women on a journey to financial freedom through lifestyle entrepreneurship. Named one of the Inc. 5000 fastest growing companies for 2009, Ali International consists of four brands: Ali Magazine, the Millionaire Protégé Club, Ali Boutique and Ali Events. Ali Magazine is the glamorous bi-monthly publication that nourishes the mind, body and soul of female entrepreneurs. The Millionaire Protégé Club is an exclusive members-only club and coaching program for entrepreneurs who want to accomplish more in business and life. Ali boutique is a chic collection of "must-haves" from designer flip cameras to lavish jewelry and hot new looks. Ali Events are live events for entrepreneurs that allow them to learn the very best in business from Ali Brown in an inspiring and motivating environment. This year's event, "Shine," will be November 5-7 in Las Vegas (http://www.shineevent.com). Media materials can be downloaded at: http://bit.ly/alimagpress.
###