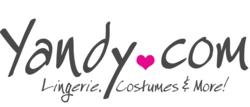 Phoenix, Ariz. (PRWEB) September 28, 2012
Customers are not only falling but scrambling down the rabbit hole for Yandy.com's collection of Alice in Wonderland costumes this Halloween season. Yandy.com, online retailer of sexy Halloween costumes and lingerie, adds even more to the already expansive collection of Alice in Wonderland costumes found on the site this 2012 Halloween.
Yandy's collection of sexy Alice in Wonderland costumes boasts nearly 100 styles in a variety of the popular tale's characters. Yandy offers not only traditional Alice and Queen of Hearts costumes but also White Rabbits, Mad Hatters and Cheshire Cats as well. Often, Yandy will see several women grabbing some friends and going as a group dressed up as all of the characters Yandy has to offer. Although the memorable fairytale is so famous, going solo as one of the characters is also a popular choice for shoppers.
Not only does Yandy offer such a wide selection of Alice in Wonderland costumes, but the prices are on target as well. Shoppers can purchase a reversible Mad Hatter to Cheshire Cat costume, for example, for only $25.95. Not only is it affordable but for a costume that offers the wearer two unique looks, it is a price that can not be beat. For those looking to purchase a more deluxe costume, they can shop Yandy's selection of boutique-style costumes for around $99.95.
In addition to a wide selection of Alice in Wonderland costumes for shoppers to choose from, Yandy also offers free, flat rate shipping on all orders and a free panty with every order.
About Yandy.com
E-commerce is on the rise and Yandy.com is one of the largest online retailers of lingerie, sexy Halloween costumes, swimwear and clothing on the web. Founded in 2003, Yandy boasts more than 6,500 products always in stock at easily affordable prices. Yandy ensures that every customer will receive a safe, secure and private online shopping experience and is backed by COMODO online security and Google Checkout. Yandy is dedicated to customer service and only sells what is in stock which allows for quick, same day shipping. Offering the highest quality products at the most affordable prices in the market, Yandy has become a leader in ecommerce. Yandy works closely with all of the manufacturers they distribute for and hand select all of the items on the Web site to ensure customers have the largest and most diverse collection to choose from. In addition, the customer service team at Yandy is unrivaled. With attentive and helpful operators, should a question or problem arise, the customer service team at Yandy is always willing and able to assist. At Yandy, every customer can Be Sexy.
###