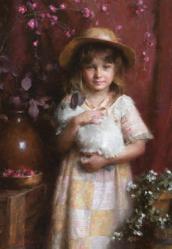 Morgan Weistling is known for his mesmerizing oil paintings and his use of color, and 'Alice' is definitely one of those memorable pieces.
San Francisco Bay Area, CA (PRWEB) December 02, 2011
World Wide Art, Inc., a renowned art gallery and custom conservation framing company, has announced that "Alice" by artist Morgan Weistling is now available at its shop.
The oil painting, which depicts a young, mischievous looking girl clutching a small white rabbit in her arms as she gazes out at the viewer, features deep pinks and glowing highlights that create somewhat of a dreamlike quality. Weistling's gentle brushstrokes achieve a host of subtle nuances and color harmonies that result in an intense depth in "Alice."
"We are very happy to carry this truly wonderful piece, as I think it really displays the imagination of a child," said David Wilfong, spokesperson for World-Wide-Art.com. "Weistling is known for his mesmerizing oil paintings and his use of color, and 'Alice' is definitely one of those memorable pieces."
Before he was even two, Morgan Weistling was experimenting with art, learning to draw from the lap of his father, who was a comic artist. His youthful imagination brought his art to life by weaving narrative stories into the things he drew. Weistling got his big break into the world of professional art at a young age, landing a gig with the top movie poster agency in Hollywood at the age of 19. His clients included Universal/Amblin Entertainment, Disney, MGM, Paramount, 20th Century Fox, Warner Brothers, Columbia Pictures and TriStar, and his works were used to promote the stories of dozens of feature films.
Weistling has since shifted the focus of his career to fine art, and his success in this space has been equally impressive. The artist is inspired by the ordinary scenes around him and brings his subjects to life with the attention to detail of a skilled movie director. As he did in his paintings as a child and at the movie poster company, he incorporates a story in each of his paintings, treating art as his method of communication.
"Alice" speaks to the imagination and fun spirit of children and their pets, something that everyone has known and witnessed for themselves. The power of this timeless message has been reflected by the public's reaction to this painting, as "Alice" was a featured work at the 2011 Jackson Hole Art Auction, selling for over $86,000. This by far exceeded the estimated sale price.
"'Alice' perfectly bridges the divide between modern art and classic oil painting," said Wilfong. "The simplicity of the subject coupled with the complexity of Weistling's technique makes this work a joy to behold."
In addition to Weistling's "Alice" painting, World-Wide-Art.com offers countless other new releases, limited editions and honored collections by today's top artists. For more information, please visit http://www.world-wide-art.com.
# # #