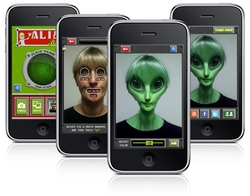 Alien Booth makes it easy and fun to transform pictures of friends, family, pets and coworkers into amazing looking aliens.
Toronto & San Francisco (PRWEB) November 22, 2010
Rocket 5 Studios, an emerging independent game developer, today announced the release of their latest iPhone app, Alien Booth. The app features the ability to easily transform pictures of friends, family, coworkers and even pets into amazing looking aliens. Alien Booth is available on the iTunes App Store today for $0.99.
Using simple on-screen controls, create fun and realistic looking aliens from pictures taken with the iPhone camera or that are already stored in the iPhone, iPad or Touch photo library.
Easily share aliens on Facebook, Twitter or email from within the app. Save aliens to the photo library and then send them via MMS. Shake the device to see before/after versions of the alien or toggle between before/after portrait and side-by-side views.
Alien Booth features a cool, interactive interface that includes a fingerprint scanner, animated laser image scanner, sound effects, detailed help screens with tips and more.
Alien Booth is fun at parties - it's a great way to meet new people and share contact information. There's virtually no limit to the wild alien effects that can be created with Alien Booth. And the aliens make great avatars for use on social networking sites.
How it works:
1. Take a picture or choose one from the photo library.
2. Position the markers over the eyes and mouth.
3. Press "GO" to see the face magically transformed.
4. Adjust the color of the alien.
5. Share with friends and family.
Alien Booth is available exclusively through the iPhone App Store in the Entertainment category. Be sure to watch the Alien Booth promo video on YouTube.
About Rocket 5 Studios:
Rocket 5 Studios is an independent game developer with over 14 years of video game industry experience. Rocket 5 was founded in 2009 by Tim Miller and Catherine Feraday Miller. Rocket 5 currently has six games and apps on the iPhone and iPad including Giant Moto, Small Space, Holeshot Drag Racing, iSpoof Walken, Gaga Eyes and Alien Booth. Five of our games have been Featured by Apple on the iTunes App Store. "We love the work we do at Rocket 5 - everything we do here is hand crafted by us for your enjoyment."
###