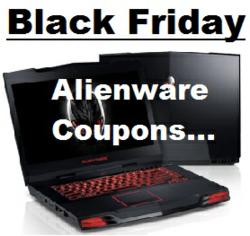 Potential Alienware buyers should take advantage of these Black Friday deals to save money.
(PRWEB) November 23, 2012
Potential Alienware laptop or desktop buyers can find the money-saving Black Friday deals and coupons, which have just been posted on Bizwaremagic's special Alienware Coupons Page. This convenient webpage was created to give prospective Alienware buyers all the latest online coupons and discounts.
Black Friday deals include $100 off any Alienware laptop or desktop priced at $1699 and above; $200 off the Alienware X51 compact gaming desktop with 3rd Generation (Ivy Bridge) Intel Core i7 processor, 16GB memory, 2TB hard drive and Bluray - with free shipping. Plus, many more deals and discounts. Keep in mind, quantities may be limited and buyers should check the Alienware site for all Terms and Conditions.
Holiday shoppers should check out these offers before purchasing any Alienware product. Throughout Black Friday and Cyber Monday, this coupons page will also be updated as soon as any new offers or deals come on stream. Taking advantage of these online coupons and discounts can save anyone money.
As most gamers know, Alienware has a long history of providing high-end, high-performance gaming laptops and desktops. Alienware was acquired by Dell in 2006, but has kept its well-known gaming brand alive and flourishing over the years. The M18x, M17x and M14x gaming laptop models have become very popular with gamers and are highly rated.
One major criticism has been the relatively high prices - many say Alienware products are over-priced and buyers are paying a premium for the brand name. Maybe so, but buyers are more than willing to pay extra for the high-performance and style, which Alienware offers to its customers. Holiday shoppers can pay a little less by taking advantage of any Black Friday deals and discounts.
This special updated Alienware Coupons/Discounts Page can be found here: http://www.bizwaremagic.com/alienware_coupons_discounts.htm or check out these highly rated gaming laptops: http://www.bizwaremagic.com/best_gaming_notebooks.htm All products/companies mentioned above are registered trademarks of their respective owners and companies.