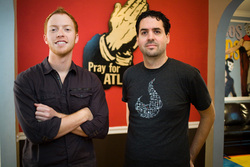 The Third Edition of Designing Brand Identity has 29 new case studies that I have identified as best practices from around the world
Atlanta (Vocus) October 14, 2009
Alina Wheeler is an icon in the world of design and brand identity. She recently released the third edition of her book, Designing Brand Identity: an essential guide for the whole branding team. Of the 29 new case studies featured, Atlanta's City Church Eastside made a two-page spread, explaining the why and how behind the brand strategy, naming, and logo development.
Designed by the brand identity experts at Matchstic in Atlanta, the City Church identity is a unique combination of art and vision. The logo showcases an intersection of 4 streets and 4 homes in the shape of a cross. The brand effectively communicates what the church is about: the local community.
"The Third Edition of Designing Brand Identity has 29 new case studies that I have identified as best practices from around the world," said Wheeler. "When I visited with Matchstic earlier this year in Atlanta, it was clear to me that it's a firm to watch. Their "On the House" program is a model that many should follow. Their work is strategic and fresh."
Matchstic made headlines in Atlanta for its "On The House" branding campaign - an effort to rebrand a local non-profit organization with all the bells and whistles … on the house.
In this new edition of Designing Brand Identity, Wheeler asks the questions: Who are you? Who needs to know? Why should they care? And how will they find out? In a crowded marketplace, the task of differentiation falls on the shoulders of branding. Whether developing a new brand or revitalizing an existing one, Wheeler offers a proven, five-phase process for creating and implementing an effective brand.
Matchstic finds their work among other enriching new case studies that showcase successful world-class brands from Herman Miller and General Electric to the Obama '08 election campaign. This Third Edition also offers new insights into emerging trends such as sustainability and social networks.
The new title launched September 1, 2009 and is available at amazon.com.
About Matchstic
Matchstic, based in Atlanta, Georgia, is a brand identity house that helps organizations define who they are and what makes them standout. Matchstic is located at 797 Moreland Ave. For more information, visit http://www.matchstic.com.
For More Information, Contact:
Brittany Thoms, SeeSpark!Go, 678-409-8140
###