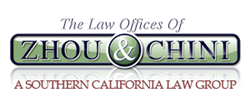 Talk to an Orange County bankruptcy attorney for free, call today.
Aliso Viejo (PRWEB) May 07, 2013
Filing for personal bankruptcy is a significant decision that should not be made lightly. There are many things that individuals need to know before they do so to make sure that the process has the best possible outcome. The Orange County bankruptcy attorneys Zhou & Chini believe those seeking to file bankruptcy should be fully educated about the rules of bankruptcy. If the courts were to find that the filing individual has disregarded any of the rules in place, the petition could be dismissed. Laws prohibit picking and choosing some debts to pay off prior to filing for bankruptcy. People may have heard bankruptcy referred to differently, either as Chapter 7 or Chapter 13. The new page helps individuals learn the differences between the two before filing. If individuals file using Chapter 7 bankruptcy, they may get all debts eliminated. This type of bankruptcy ends many debts that might be outstanding with creditors. A Chapter 13 filing involves a repayment plan, though. Typically, individuals will make a partial payment against the debts over the next 60 months before the balance of the debts is lifted. Those considering filing for bankruptcy need to be aware of the pros and cons of each type of bankruptcy so they can correctly select the best choice for your situation.
Bankruptcy can be a challenging time in anyone's life, but it is meant to give you a fresh start, enabling people to establish good credit and move toward a better future. The Aliso bankruptcy attorneys want individuals to remember, bankruptcy is a legal right, so don't feel guilty or ashamed of taking advantage of it. The new "wiki style" website provides valuable links for those looking for more Aliso Viejo bankruptcy information. The bankruptcy attorneys in Aliso Viejo believe everyone should be highly skeptical of any debt settlement companies. Some of these companies are unregulated, as well, which makes it difficult to fight any injustices individuals may encounter. Do not assume that declaring bankruptcy will leave the filer homeless, or without transportation. Depending on how the bankruptcy is set up, individuals may be able to stay in the home or keep an automobile, so long as payments are continued on the car loan or the mortgage. Make sure to comply with the educational requirements for bankruptcy. Individual have to meet with an approved credit counselor before one can file. You have to take an approved financial management course. If you don't take these courses in time, the court will dismiss your bankruptcy.
The bankruptcy lawyers want people not to take filing for bankruptcy lightly. Remember, a bankruptcy will appear on a credit report for ten years after filing, and will be unable to file again for many years. Individuals may have a difficult time securing credit or low interest rates in the future, so make sure that this option is the best financial alternative. The firm continues its efforts in online domination by offering free informational resources for those seeking knowledge about the different bankruptcy laws and information. The attorneys utilize a SEO company to assist in law firm marketing to promote the message about the importance of speaking with an experienced lawyer if someone is considering filing. The firm continues its online presence by offering zero cost California bankruptcy information on law firm's blog and social media pages. This information, along with free consultations the firm hopes to attract more Aliso Viejo residents looking for financial relief. To learn more information view the bankruptcy attorneys Facebook page, https://www.facebook.com/CaliforniaBankruptcyInformation
About the Firm: The Law Office of Zhou & Chini servicing the cities and counties of California. He is a graduate of UCLA and has been practicing law since 1999. Mr. Zhou has a wealth of experience in bankruptcy, civil litigation, family law, criminal law and unlawful detainer. Zhou and Chini Law Offices provide bankruptcy assistance to Orange County, Los Angeles, and San Diego residents. For more information about using a bankruptcy San Diego law office, call toll free.
Contact: Ron Chini
Email: info(at)bankruptcyattorneyorangecounty(dot)org
Phone: 888-901-3440