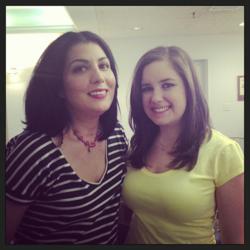 As a makeup artist who developed a product line to benefit the health & wellness of women, it is a tremendous honor to be recognized by my fellow female entrepreneurs as a Finalist for Savor's Product Company of the Year 2013. - Alison Raffaele
Cliffside Park, NJ (PRWEB) May 01, 2013
Alison Raffaele, Founder of Alison Raffaele Cosmetics, Inc., has been chosen as one of five Finalists for "Product Company of the Year 2013" by Savor the Success, the premiere business network for female entrepreneurs. Finalists were chosen by a panel of four judges based on merit, caliber, and growth in the past year. The winner will be announced on May 9th at Savor the Success' fourth annual Women Entrepreneurs Rock the World Conference in New York City. RTW 2013 is co-sponsored by American Express OPEN and Whole Foods.
Alison Raffaele will personally present her products and be available to speak with the Press on May 8th and 9th at RTW Booth #16.
About The Brand:
The protégé of Bobbi Brown, Makeup Artist Alison Raffaele is a queen of complexion enhancement. Launched in 2008, her eco-friendly makeup line, Alison Raffaele Cosmetics, is equally concerned with both the appearance and the health of the skin. Her proprietary formulations combine potent, naturally derived antioxidants and peptides with ingredients safe enough for the most sensitive of skins into easy-to-use, yet highly effective products. The ARC mantra, "LIVE BEAUTIFUL!" expresses Alison's professional understanding that a woman's true beauty must come from within, and that it is best expressed through the pursuit of her dreams.