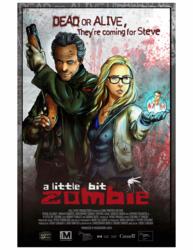 We were pretty shocked that our little zombie movie was selected to be the Gala
Toronto, CANADA (PRWEB) January 06, 2012
The director and producer of the romantic-zombie-comedy, A LITTLE BIT ZOMBIE, has just released the Official Trailer, on the same day as the announcement by the Victoria Film Festival that the film has been selected as the Canadian Gala taking place on February 4th at the Odeon Theatre in beautiful downtown Victoria, British Columbia.
"We were pretty shocked that our little zombie movie was selected to be the Gala. It was while living on Vancouver Island in the 90s that I decided to go to film school, so it's kinda awesome to be going back there to premiere my first film," said Walker.
Several cast members will attend the Gala, including Shawn Roberts (RESIDENT EVIL: AFTERLIFE), Crystal Lowe (FINAL DESTINATION 3), Kristopher Turner (Instant Star), Kristen Hager (Being Human) and Emilie Ullerup (Sanctuary).
In the screenplay co-written by Christopher Bond, co-creator of 'Evil Dead The Musical', and Trevor Martin, Steve (Kristopher Turner) gets infected by a virus the week before his wedding and tries to keep it together so as to not incur the wrath of his Bridezilla-to-be (Crystal Lowe). While he attempts to fulfill his overwhelming desire for brains he must elude an obsessed zombie hunter (Stephen McHattie), who is hot on his trail.
Casey Walker, the director and producer, is a veteran TV director (Survive This, The Adrenaline Project). Considered a pioneer in crowdsourced fundraising, he financed A LITTLE BIT ZOMBIE through his initiative called 'My Million Dollar Movie.' During the last five years Walker successfully raised $1.9 million by selling over 195,000 frames of the film to more than 600 people in over 25 countries.
A LITTLE BIT ZOMBIE was produced in association with Corus Entertainment's Movie Central, Astral Media's The Movie Network, the Ontario Media Development Corporation and the Northern Ontario Heritage Fund Corporation.
Official Links:
Trailer: Official Trailer
Websites: alittlebitzombie
Facebook: A Little Bit Zombie
Victoria Film Festival
For 10 days in February (3-12), Victoria buzzes with world premieres, exclusive screenings, and discussions surrounding the boldest, most vivid cinema from around the world. The screen is the focus, what happens around it makes the Victoria Film Festival unforgettable.
###