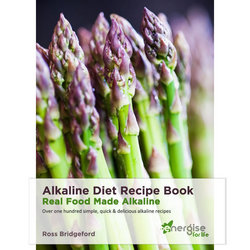 The idea behind the book is to make the alkaline diet easy – to make it easy to live a normal life and eat real food but still live alkaline and get all of the benefits that this diet provides.
Del Mar, CA (PRWEB) June 30, 2010
If you are one of the millions of people who have tried the increasingly popular Alkaline Diet, but have been left hungry and bored after days of salads, seeds and broccoli – then get ready to breathe a sigh of relief!
Ross Bridgeford, alkaline diet expert and author of The Alkaline Diet Recipe Book, has achieved the seemingly impossible. He has created an entire book of alkaline recipes that are truly delicious. In fact, if you picked up the book without reading the cover you would never think that this was a healthy recipe book.
Having lived and coached the alkaline diet for the past six years, Ross understands how intimidating it can appear to newbies at first, "I remember it being a little confusing reading about which foods were acid and which were alkaline. Even as someone who considered myself healthy, I was left wondering what I was going to eat!".
But Ross has succeeded where others have failed, and has made the alkaline diet both tasty and filling. Through communicating with over a hundred thousand readers through his alkaline diet website and blog, energiseforlife.com, he has developed over a hundred recipes that will alkalise the body and leave you feeling energetic and vibrant. "The idea behind the book is to make the alkaline diet easy – to make it easy to live a normal life and eat real food but still live alkaline and get all of the benefits that this diet provides."
Launched last weekend at a high profile health seminar in Montreux, Switzerland with Tony Robbins' health guru, Joseph McClendon III, the book has proved an immediate hit. "People have obviously been crying out for a realistic and usable alkaline cookbook for a long time. We sold every copy we had at the launch within an hour and I've been getting emails every day from people thanking me for writing this book!"
The praise has come from far and wide, but most notably from Rose Elliott MBE, the bestselling vegetarian cookery writer who wrote "I love this book; the fresh, easy, delicious recipes and beautiful photos make it a joy to use and an inspiration to anyone wanting to improve their health and vitality"
High praise from the queen of vegetarian cookery!
However, it is not surprising when you take a look through Ross's recipes. He's used his years of experience and experimentation to make big favourites such as curries, pastas, lasagnes, chillis, fajitas and more, truly alkaline, while still retaining their mouth-watering flavor.
How?
"I knew that with some recipes it is just impossible to remove the dairy, meat, sugar and keep the same flavours and textures. That is why it has taken me so many years to finish this book! The recipes I've published are almost identical in taste to the originals but are 100% alkaline. I substitute ingredients as little as possible so you're still effectively having the real deal – there are no 'mock meats' or fake cheeses, the recipes all use real, fresh ingredients".
Hale Clinic nutritionist, Gareth Edwards has found the book a godsend, "This book is packed with tasty, nutritious and inspiring meals that are quick and easy to make. Ross's enthusiasm for the subject shines through in every page. I'll definitely be recommending this book to my patients. It should make my job as a nutritional therapist a lot easier!"
Best of all, an occasional treat or a blow out meal is positively encouraged. One of Ross's main philosophies is that we should allow ourselves to live in balance and not deny ourselves. Now that's a diet anyone can stick to.
If you are serious about getting your health in check and boosting your energy then the Alkaline Diet Recipe Book is a must!
The Alkaline Diet Recipe Book is a 132 page full-colour paperback featuring over 100 alkaline breakfasts, lunches, dinners and snacks. It is available from http://www.energiseforlife.com for £19.99 / $28.99. The book is shipped worldwide.
Call 0845 872 0370 or go to energiseforlife.com
# # #