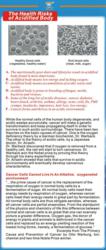 Recent studies reveal that acidic eating habits are the main contributor of weight problems, particularly leading to excess yeast and fungus such as Mycotoxin.
Boca Raton FL (PRWEB) May 30, 2013
Scientific and medical expert studies are revealed in the new Bawell report that explains how people with over-acidic bodies are more prone to depend on fat cells. "Fat cells are automatically generated by people's bodies for its own preservation from too much acids. Given this fact, over-acidity makes the body have too much dependence on fat cells, which actually results in overweight or obesity. Recent studies reveal that acidic eating habits are the main contributor of weight problems, particularly bringing excess yeast and fungus (such as Mycotoxin)," the newly released Bawell health report states.
"Yeast and Fungus are what makes the body have indigestion, and causing people's brains to crave for more sugar. Therefore, it affects their digestive systems negatively, further increasing yeast development," the Water Ionizer report adds, and continues with, "Mycotoxins also stress the immune system by causing it to be continually worn out, which results in allergy problems."
Bawell's report goes on to explain about how over-acidity negatively affects the body, "Over-acidity uses up alkaline minerals to buffer the acidity and make the body more alkaline, as a result people can feel lethargic and exhausted from this de-mineralization process. Over-acidity not only consumes our energy, but also prevents the body's ability to use stored energy reserves. Worse, it may even lead to osteoporosis because of the draining of calcium from our bones to buffer the acidity levels in the body."
"Bad cholesterol, lipid breakdown, oxidative stress and quicker signs of aging are all symptoms that can be seen developing as acids destroy cells. An acidic pH also lessens the oxygen supply that is available to the body's tissues, which means the death of cells. Aside from that, fatty acids that are essential for the body's metabolism and neurological system, particularly to the nervous system's functioning, can be restricted when over-acidity in the body is present," says the report that Bawell Water Ionizers just published.
To help the body remove excess acids, the health report suggests that people switch to a more alkalinized diet. "People can drink alkaline ionized water to help combat acidosis, and raise the pH of the body to an alkaline state which promotes health, this has been proven by medical research. People should also eat more alkalinized foods, such as green leafy vegetables, nuts, salads, various fruits, along with the alkaline water," the health report explains.
Too much acid occurs because of the lack of a healthy diet and adequate exercise. Bawell explains on their company website that alkalinity is what energizes one's bodies naturally, and what helps to maintain a proper pH balance. "Alkaline water counterparts all negative works of over-acidity in our bodies. Ionized water and alkalinized food does everything oppositely. Balancing the pH is essential for cell rebirth, which also helps in the prevention of cancer cells that form because of too much acidity," a Bawell representative explains.