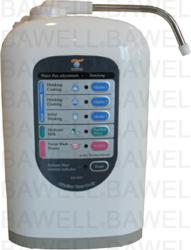 Boca Raton FL (PRWEB) May 02, 2013
The Bawell company is busy marking down all their prices for this year's Mother's Day water ionizer sale special. Customer satisfaction is a top priority for Bawell, and can be seen by being a Better Business Bureau Accredited Company with an A rating.
The water that the equipment produces can be used for various purposes, that is why the machines make both alkaline and acidic water. The level 3 alkaline water is great for making coffee that has an excellent taste and texture, and it enhances tea by eliminating the acerbity while enhancing the tea's pure fragrance. When level 3 alkaline water is used during cooking it helps to preserve the foods original taste, plus decreases the salt content within the food.
Rinse foods with level 2 alkaline water to prevent a loss of vitamins while preserving the original taste of the food, plus this water can be used for drinking and making beverages. People should start with the level 1 alkaline water to introduce their body slowly, then move up to a higher alkalinity as their body adjusts. The acidic water that is produced can be used for a facial wash and in the shower, plus it can be used for household sterilization and disinfection.
The Bawell Electrolyte Water Ionizer Model 799 is very popular, and can be seen along with its benefits and features at http://www.bawellwaterionizers.com/bwa.html#electrolyte. The impurities and hazardous substances that can be found in tap water are removed by the highly refined filtration systems that are found in the Bawell water purification equipment. A valuable benefit that the model 799 offers, is the compartment where nutrients, vitamins, food additives, and other elements can be added. The machine can be set so the water flows through the chamber and becomes enhanced with the micro elements that were added. For many people that cannot swallow vitamins in pill form, this is a healthy alternative.
For the past decade Bawell has been manufacturing and supplying water ionizing machines to over 1,000,000 customers around the world. The Bawell brand has become the most trusted internationally recognized name in the alkaline water ionizer industry. Click here to discover more about them, and their Mother's Day Sale.