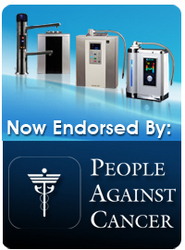 Just like humans, a pet's body is mostly made up of water
Carlsbad, CA (PRWEB) April 10, 2009
We all know about the importance of drinking plenty of fresh water for our health, but what about our pet's health? Life Ionizers Founder and CEO Rick H. Cabados and LIFE's Chief Science Adviser, Dr. Peter Kopko, D.C. recently got a chance to talk about the importance of ionized and alkaline water for pets as recent guests of the "Ask Martha's Vet" segment on Martha Stewart Living's Sirius radio show.
"Just like humans, a pet's body is mostly made up of water," Dr. Kopko said. "As their owners, and caretakers, it is absolutely critical that we provide them with the healthiest choice of clean and pure water."
Unlike water out of the tap that normally contains hard minerals, trace metals and even in some locations traces of pharmaceutical drugs, it is important to have a quality water system that not only removes these harmful materials, but also restores the normal pH balance of water and adds ionization and alkaline minerals.
"There has been a move lately towards more quality raw and organic food for our pets," Cabados said. "That is a great move towards a healthier lifestyle, but that is only part of the entire story. They need the best quality water they can consume as well. A pet's diet is highly acidic and our pH balanced water helps maintain their bodies."
With summer coming in a few months, dehydration is a major concern for pets. Ionized and alkaline water helps animals hydrate faster and keep their bodies cool. But that is only one of the major benefits for pets from Life Ionizers' water.
"Water is more than just the simple combination of two hydrogen and oxygen," said Cabados. "Healthy alkaline water from a Life Ionizer also provides the extra minerals and antioxidants that essential for our pets."
For more information on Life Ionizers, and the healthy benefit of ionized and alkaline water for pets from the Marta Stewart Living Sirius Radio show's "Ask Martha's Vet" segment, please check out some questions from the interview at http://www.lifeionizers.com/life-ionizers-on-sirius-radio.
###