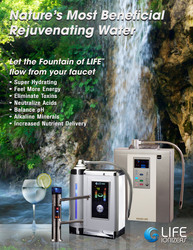 We are delighted that Physicians' Desk Reference has recognized the LIFE Ionizer™ as a valuable contributor to overall health
Carlsbad, CA (PRWEB) October 23, 2008
Physicians' Desk Reference (PDR), the medical reference "physician's bible" for Doctors worldwide, has included the LIFE Ionizer™ 7500 in the newly released 30th edition. LIFE Ionizer™ is the first and only water ionizer listed in the highly respected reference manual.
"We are delighted that Physicians' Desk Reference has recognized the LIFE Ionizer™ as a valuable contributor to overall health," said Rick H. Cabados, CEO of Doctor's Health Supply, which supplies LIFE Ionizers™ to health professionals, athletes, and the public. "Alkaline, ionized water has been a staple of health and wellness programs in Japan and Korea for fifty years and is rapidly gaining wide acceptance among physicians in Europe and North America," Cabados continued. "The listing in the PDR will bring this beneficial technology to the attention of medical professionals worldwide."
Water ionizers turn ordinary tap water into ionized, alkaline water by delivering a strong electrical current to the water. This process, known as electrolysis, separates the water into two streams: alkaline mineral water for drinking and acidic mineral water for the skin, and for cleaning and sanitizing. The process also breaks large clusters of water molecules into "micro-clusters" that are readily absorbed by tissues and cells, leading to better hydration at the cellular level.
The ionized, alkaline water has an abundance of negatively charged ions. Once absorbed into the system, these negatively charged molecules are attracted to positively charged free radicals, which are linked to aging and disease. When the two meet, they exchange electrons and bond. This process neutralizes the free radicals and prevents them from causing cellular damage.
The PDR is the authoritative resource of FDA-approved information that over 500,000 physicians have turned to as a key reference for over sixty years. PDR is considered the standard resource reference and can be found in virtually every physician's office, hospital and pharmacy in the United States.
About LIFE Ionizers™
The International Headquarters are in Carlsbad, California, with offices in Canada and the United Kingdom, LIFE Ionizers™ has been a leading supplier of home, commercial, industrial and agricultural water ionizers since 1996.
###