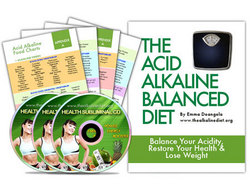 Our goal is to share, educate and broadcast the true and natural way of healthy eating and living
New York, NY (PRWEB) March 22, 2010
TheAlkalineDiet.org has just announces its new expansion plans offering natural health and dieting news with a network of natural dieting websites. After the launch of the website last November, the number of visitors has increased exponentially over the last few months and customers have been more than happy to read more about natural tips, news and secrets that can improve their health tremendously.
Together with 9 other health websites, TheAlkalineDiet.org is the heart of the health network which now give away jam-packed natural health & green living newsletter to anyone who subscribes to their newsletter. In the newsletter, the readers would receive exclusive interviews with natural health authorities, read latest natural health news and also find out how to prepare healthy recipes.
"Our goal is to share, educate and broadcast the true and natural way of healthy eating and living," said George Tee, founder and CEO of Alkaline Diet. "On top of that, we want to share the correct way to lose weight as well as living a healthy life - our philosophy is, if you eat the right foods, you will definitely lose weight."
When TheAlkalineDiet.org just started, the website only provides alkaline foods and alkaline diet information. The main mission was helping readers to kick off the alkaline diet. Now it is heading towards the direction of becoming an official natural news portal to publish all the latest natural health news, articles and tips. In fact, interested readers can subscribe to one of the websites in the network for example Detox Diet and Master Cleanse, and they can still received the same latest natural health news.
In one of the articles in the website, the readers can read more about how the blood's pH level is actually out body's lifeblood. A slightly alkaline pH level is essential for the body to function at its optimal level. The American's diet is one of the main causes that contributes to most American being obese and full of diseases. "In fact, most Americans' body are highly acidic," George commented.
For readers who are interested to read more about alkaline diet, George has worked with famous author, Emma Deangela, with her Alkaline Diet Course. It is a step by step detailed alkaline course for individuals who have a desire to stay healthy. After reaching out to thousands of readers on the alkaline diet, Emma has released the second edition of the course at the start of the year 2010.
To read more about natural health and diet news, please visit: Alkaline Diet
###