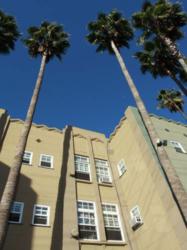 Los Angeles, California (PRWEB) November 16, 2012
While you may not recognize their name chances are you have seen their work in countless TV shows and films. For years Los Angeles based All Access Placement has been known as the kings of product placement due to their knack of placing their customer's products in some of the biggest blockbusters of all time. However, not content with just placing products All Access Placement announced on Wednesday that they have teamed up with William Holdings (a Los Angeles based property management firm) to place their vast collection of properties in films and television shows.
The partnership between All Access Placement (a division of Dessler Media) and William Holdings positions All Access to become the largest supplier of residential locations in Hollywood. With a portfolio of more than 300 properties William Holdings is one of the largest property management firms in Los Angeles.
While many in the product placement field would have never thought to enter into the Location market - the decision was easy for All Access Placement according to Vice- President Brian Cooper. "When a landmark building appears in a movie or TV show people wanna live there, and William Holdings has plenty of landmark buildings."
The partnership, while still in its infancy has already proved to be fruitful with a major motion picture spending a week shooting at the William Holdings Fedora Woods property in Hollywood.
To view William Holdings collection of properties visit http://williamholdings.biz