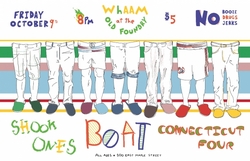 Bellingham, WA (PRWEB) September 29, 2009
Whatcom All-Ages Arts & Music (WhAAM) is pleased to present seven concerts in October of 2009. All of the shows will take place at WhAAM @ The Old Foundry located at 100 E. Maple St. in Bellingham, WA. Each show costs $5.00 and doors will open at 8:00 PM.
The shows:
Human Infest, The Americommies, Muppet Fetish
Sat. October 3, 2009
The Ground Floor & WhAAM present:
Breaker Breaker One Niner, He Whose Ox is Gored, The Fanatics, The Coma Recovery, Brownes Condition
Sun. October 4, 2009
Shook Ones, BOAT, Connecticut Four
Fri. October 9, 2009
Rooftops, The Keaton Collective, Finn Riggins, Council of Lions
Thu. October 15, 2009
The Ground Floor & WhAAM present:
The Trutones, Stillborn Unicorn, The Order of the Crimson Wizard, The Cherubs
Fri. October 23, 2009
Transmography, Mistress Birmingham, Ginsu Wives and Special Guests
Sat. October 24, 2009
Halloween Show and costume party w/ Black Eyes and Neckties (Last all-ages show ever), Horror Business (Misfits Tribute), Scary Monster & The Super Creeps (David Bowie Tribute)
Fri. October 30, 2009 

All of these shows are all-ages events. As part of WhAAM's commitment to safe, youth-friendly events, no alcohol or drugs will be permitted anywhere on or near the premises. Proceeds from these shows will allow WhAAM to continue putting on safe, quality all-ages events in and around Bellingham.
About WhAAM:


Whatcom All-ages Arts & Music (WhAAM) was created in the spring of 2005. Its mission is to unite Whatcom County youth and community through the creation of a healthy, vibrant, safe and sustainable all-ages music and arts venue in Bellingham. It is Bellingham's only only off-campus nonprofit all-ages music venue. WhAAM is a 501(c)(3) nonprofit organization.
For more information about WhAAM, visit http://whaam.org/. If you are interested in writing a show preview, review or general interest article on any WhAAM event or the organization, press may contact:
Aaron Apple
PR Manager
360-540-0831


# # #