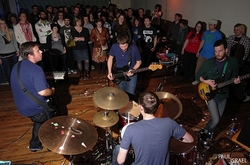 While the last three and a half years at The Old Foundry were amazing, WhAAM is currently looking to expand its programming and fulfill its mission in a new location
Bellingham, WA (PRWEB) February 9, 2010
Whatcom All-Ages Arts and Music (WhAAM) is announcing that the organization will be moving out of The Old Foundry on 100 E. Maple Street and is now seeking tenancy in a new building.
"While the last three and a half years at The Old Foundry were amazing, WhAAM is currently looking to expand its programming and fulfill its mission in a new location," said Amanda Kalkwarf, 2009-2010 WhAAM President. "In addition to putting on more all-ages concerts, WhAAM's long term goals include art classes and workshops, a recording studio, a 'zine library, drop-in hours, community feeds and a resource center for local musicians and artists."
To further these goals, WhAAM hopes to seek joint tenancy with Make.Shift. Make.Shift is a Bellingham-based 501(c)(3) nonprofit that supports struggling musicians while lessening their impact on the environment.
"Make.Shift is excited to work with WhAAM to reach our common goals," said Cat Sieh, Make.Shift Chair. "We want this space to be a resource hub for local musicians and people who support local music."
Make.Shift will provide low-cost practice space to musicians in addition to having its office and headquarters at the shared location.
WhAAM, as a 501(c)(3) non-profit, would like to stress that the organization is financially stable. Community members who are interested in seeing WhAAM succeed can donate space to store WhAAM's stage and gear during this transition. As always, WhAAM welcomes financial or in-kind contributions toward its goals.
During this transition toward a new permanent space, WhAAM will reduce the frequency of all-ages shows to approximately one per month, to be held at various locations in Bellingham. WhAAM will continue holding shows at the Old Foundry until the end of March. For more information about upcoming shows, please visit http://www.whaam.org. To learn more about Make.Shift, visit http://www.makeshiftproject.com.
About WhAAM:
Whatcom All-ages Arts & Music (WhAAM) was created in the Spring of 2005. Its mission is to unite Whatcom County youth and community through a healthy, vibrant, safe and sustainable all-ages music and arts venue in Bellingham.
About Make.Shift:
Make.Shift supports struggling local musicians through environmentally friendly programs.
Contact:
Aaron Apple
PR Manager
Whatcom All-ages Arts & Music
http://www.whaam.org
360-540-0831
Contact:
Cat Sieh
Chair
Make.Shift
http://www.makeshiftproject.com
510-499-0535
###