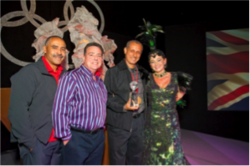 Montego Bay, Jamaica (PRWEB) December 01, 2011
Virgin Holidays, the leading U.K. holiday company owned by Sir Richard Branson, founder of the Virgin Group, hosted a function at the Battersea Power Station in London on Sunday, November 6, 2011 to honor the top hotels worldwide. Couples Tower Isle Hotel & Resort was honored with the Gold Award, which is given to a hotel establishment providing an excellent Jamaican tourist destination.
The 9th Annual Awards of Excellence Ceremony heralded the start of World Travel Market in London and was attended by many hoteliers and tour operators from all over the world. The Gold Award for Best Hotel – Caribbean & Mexico was presented to Couples Tower Isle by Amanda Wills, Managing Director of Virgin Holidays and celebrity guest, Daley Thompson, CBE, world renowned Decathlete. Glenn Lawrence, CEO of Couples Resorts, and Tom McNamara, Director, Europe & Asia, for Couples Resorts, accepted the award.
"We are absolutely thrilled to receive this award for our flagship hotel, Couples Tower Isle. After the recent US$35M refurbishing, this recognition validates our extensive investment," commented Lee Issa, Chairman of Couples Resorts. "The Resort is known for its old-world elegance and style and, while maintaining that quality, we have managed to update the facilities to suit the needs of our clientele."
"To be recognized by a company as well-respected as Virgin Holidays is extremely gratifying," said Glenn Lawrence, CEO of Couples Resorts. "The staff of Couples Tower Isle are our greatest asset and I would like to dedicate this award to them," he added.
About Couples Resorts:
Couples Resorts, headquartered in Montego Bay, Jamaica, owns and operates four properties in Jamaica – Couples Tower Isle, Couples Sans Souci, Couples Swept Away and Couples Negril. Pioneered by the legendary Abe Issa, "father of Jamaican tourism," each Couples Resort is an unsurpassed model of the all-inclusive resorts concept, boldly designed with local inspiration to create a harmonic sense of nature and authentic Caribbean spirit.
For over 33 years, Couples has delighted guests and refined the Caribbean all-inclusive resort experience by providing unparalleled service, exceptional dining experiences and exclusive added value inclusions. For further information please visit http://couples.com/.
###