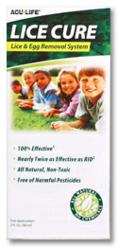 A new testosterone boosting and muscle retention product from the product line "Cell Formula" is now available by True Healthy Products for Pre-release with limited quantities.
(PRWEB) March 01, 2012
Natural based health, wellness, and fitness company, True Healthy Products is now offering an all natural treatment for the removal of head lice and head lice eggs, otherwise known as nits. The company is offering this topical cure for the first time at a low cost as part of their new product line expansion for 2012.
For information about the All Natural Lice Cure, visit the company's website: http://www.truehealthyproducts.com/products/health-wellness/acu-life-lice-cure-kit
The Acu Life Lice Cure is a pesticide free, non toxic, safe cure for the treatment of head lice and nits. According to the manufacturer, an approved study by the Southern Institutional Review Board out of Miami, FL and conducted by Lice Source Services, Plantation, FL produced data that even without the use of the nit comb, the natural lice cure was nearly twice as effective as RID.
The Lice Cure by AcuLife, which is now available for sale by True Healthy Products, is an all natural with no pesticides removal system that includes gloves, a reusable metal comb, and two full applications of the solution. The lice product is often effective in a week or less, and provides a quick solution to lice infestation. The product is recommended for children and adults.
True Healthy Products is dedicated to superior customer care and supports an informative website with current information free for anyone to view regarding fitness, nutrition and natural ways to improve health and lifestyle. The company offers several healthy, all natural products like whole food vitamins, synthetic free supplements to boost testosterone, all natural weight loss products and soon will offer a natural skin care line. For more information, visit the company's website at http://www.truehealthyproducts.com.
True Healthy Products
2460 N. Courtenay Parkway, Unit 210
Merritt Island, FL 32953
888-400-2920
http://www.truehealthyproducts.com
###