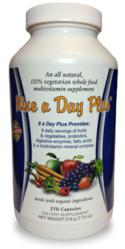 Health and wellness company, True Healthy Products is now offering vitamins A, B, and C from all natural and organic sources.
(PRWEB) February 17, 2012
True Healthy Products, a nutritional and supplement company with a focus on obtaining health and fitness goals through natural supplementation and nutritional balance is now offering several new vitamins for 2012. Vitamins A, B and C are available for supplementation in a variety of ways from all natural and in some cases, organic sources.
Vitamin A, commonly used for vision, bone growth, reproduction and to boost the immune system, is available from the company in their wholefood multivitamin, "9 a Day Plus," as well as in the "Whole 9" fruits and vegetables meal replacement shake, which can be viewed here: Delicious Whole Food Shake.
Vitamin B, an essential vitamin for the human body, is used for many things. In general it is used for hormone production, energy production, helps maintain nervous system and lowers cholesterol and triglycerides. It can now be found in the 9 A Day Plus natural multivitamin and the Whole 9 Meal Replacement Shake as well as in the company's all natural energy booster, Pure Energy. The Pure Energy contains 500% of the recommended daily value of B12. B12 is very easily depleted by the body, and helps to regulate stress levels. According to True Healthy Products' formulator, Andrew Wood regarding the Pure Energy, it is made to wake you up, can be used as an all natural energy supplement, but should not "give you jitters" like other energy supplements can.
Vitamin C oftentimes is used as a supplement that helps to build collagen, prevent cancer and heart disease, helps to detox the body, supports good bacteria but helps to kill bad bacteria, fungi, viruses and parasites, maintains healthy arteries and destroys free radicals, among many other benefits. It can be found in the 9 a Day Plus Wholefood Multivitamin and the Whole 9 Fruits and Vegetables Meal Replacement Shake but is newly available as a stand alone supplement, "100% Organic Vitamin C," made from acerola cherry, Natural Vitamin C.
The company typically highlights better health and achieving fitness goals through natural supplements and nutritional balance, and cites reasons from several sources for natural supplementation over synthetics all throughout their website.
For detailed information about the new A, B and C supplements, or for information about obtaining health goals incorporating proper nutrition and healthy lifestyle changes, please visit the company online at http://www.truehealthyproducts.com.
True Healthy Products
2460 N. Courtenay Parkway, #210
Merritt Island, FL 32953
888-400-2920
http://www.truehealthyproducts.com
###