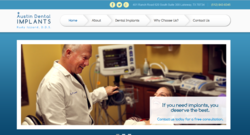 (PRWEB) August 23, 2012
Austin Dental Implants, the teeth implant dentistry practice of Dr. Rudy Izzard, has launched a new website to help people in the Austin area decide if dental implants are right for them.
The site provides thorough information on dental implants in Lakeway and their different uses, from bridges and crowns to stabilizing dentures. It also explains what makes Dr. Izzard different from other providers of dental implants.
Dr. Izzard recently started his dental practice in Lakeway after a 20-year career in San Angelo, where he focused on IV sedation, implantology, minor oral surgery and hospital dentistry.
"My goal for this site is to help people who are unsure of whether dental implants would help them," Dr. Izzard said. "Implants can improve the smile, reverse jaw decay and really provide a new sense of confidence to people who are missing teeth. Hopefully, this site will make a difference for people trying to decide if that's the right solution for them."
Dr. Izzard has been providing dental implant services for much to his career, including volunteering his services to helping abused women and former drug addicts gain confidence through a new smile with the help of dental implants. He plans to do the same with dental implants in Austin.
About Austin Dental Implants at the Lakeway Center for Cosmetic and Family Dentistry
The Lakeway Center for Cosmetic and Family Dentistry is an Austin cosmetic dentistry practice in Lakeway, Texas consisting of Dr. Robert D'Alfonso and Dr. Rudy Izzard, whose practice is named Austin Dental Implants. Dr. D'Alfonso practices cosmetic, restorative and general dentistry, while Dr. Izzard focuses mainly on implants and oral surgery, providing all on four dental implants. The practice features an in-house lab and IV sedation capabilities. The dentists at the Lakeway Center pride themselves on providing high-quality general, cosmetic and implant dentistry that gives patients the confident, healthy smile they deserve.