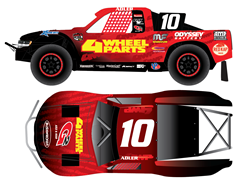 We not only have a lot of experience on this team but these are guys who know how to win. I'm excited to see what we can do against this field and take things to the next level at Lake Elsinore
Compton, CA (PRWEB) March 19, 2015
Greg Adler and Team 4 Wheel Parts are setting their sights on the 2015 Pro 4 title as the Lucas Oil Off Road Racing Series kicks off this weekend at Southern California's Lake Elsinore Motorsports Park. With a busy off season behind them and a number of new faces joining the team, Adler and his team are poised to continue the momentum that saw him capturing second place finishes in two of the final three rounds of the 2014 season.
The battle-tested team is now led by short course off-road racing veteran Crew Chief, Mike Seat. With an extensive resume representing multiple wins and class championships, Seat brings a breath of knowledge to the team as they prepare to take on the world's greatest drivers in the sport's elite Pro 4 division. While Seat assumes responsibility for the preparation and performance for the 900-HP, purpose-built Ford truck, renowned driving instructor Cory Kruseman will be working alongside Adler to extract the maximum effort from both driver and machine. As a multi-time championship-winning spring car driver and owner of the Cory Kruseman driving school, Kruseman brings extensive experience and a unique perspective to the team.
"We finished last season with a great run and we felt like we were getting the truck close to where we needed it to be," said Adler, looking to repeat his late season success. "Now working together with Cory and with Mike wrenching on the truck, we not only have a lot of experience on this team but these are guys who know how to win. I'm excited to see what we can do against this field and take things to the next level at Lake Elsinore."
Known for its high-flying jumps and standing room only crowds, Lake Elsinore will host three weekends of racing during the 18 Round season that also includes visits to Arizona, Nevada, Utah and, for the first time ever, Ensenada, Mexico.
Follow all the Greg Adler Motorsports action throughout the season at Team4WheelParts.com. Lucas Oil race events will be broadcast throughout the season on CBS, the CBS Sports Network and MavTV.
Greg Adler Motorsports is Supported by:
4 Wheel Parts - Pro Comp Tires - Odyssey Batteries - Magnaflow Exhaust - AMP Research / AVS - Lund Daystar – RedKap - G2 Axle and Gear - Makita Industrial Power Tools - Mastercraft Safety - Fox Racing Shox -K&N Filters - Fiberwerx - GoPro
About 4 Wheel Parts
4 Wheel Parts is the global leader in off-road, Jeep and aftermarket performance products. With 69 locations across the U.S. and Canada and growing, 4 Wheel Parts Service Centers install all the products they sell. With the nation's largest inventory of all terrain tires, wheels, lift kits, and truck accessories, 4 Wheel Parts serves customers across the country and around the globe. Life is Better Off-Road™. Visit them at 4wheelparts.com or call toll-free 877-474-4821.