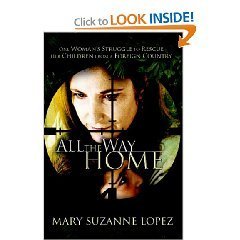 Tulsa, Okla. (Vocus) August 11, 2009
Yorkshire Publishing releases "All The Way Home," a riveting thriller from author Mary Suzanne Lopez. This true life story chronicles one woman's struggle to reclaim her children after they are kidnapped and taken to Costa Rica by her abusive husband.
When Mary Sue marries Roberto, a young Costa Rican, she believes she will soon be living with him in a beautiful tropical paradise. Three children later, Roberto shows Mary Sue how abusive he can be. Mary Sue must divorce Roberto. Soon she finds herself heading back to school, and working at a local hospital.
One day, she returns from work to find her children missing, and all the closets empty. She frantically tracks down her former husband and learns her children have been kidnapped and taken back to Costa Rica. After gaining his trust, she secretly makes plans to smuggle her children out of the jungles and back to the United States.
Roberto, hailing from a politically connected family, has friends and informers throughout the country so in order to bring her children back safely, Mary Sue will need to use all her nerve and skill to evade Roberto's grasp.
Author Mary Suzanne Lopez, after sharing her story with a number of women's groups, was inspired to write her story of this harrowing escape with others. Growing up in Oklahoma, Lopez never expected to face the challenges and danger of saving her own children from an abusive relationship. Her story of strength and determination will empower others to seek safety for themselves and their children, while shedding light on the real-life challenges faced by families who struggle with abusive situations.
"All the Way Home" will keep reader's interest from the first page to the exhilarating end. It is an unbelievable look into one woman's true-life odyssey to not only save her children, but also herself.
For additional information visit: http://www.marysuzannelopez.com
CONTACT:
Mary Suzanne Lopez
918.812.4357
# # #