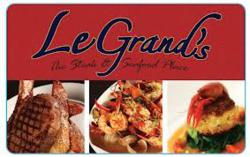 Reservations can be made online or by phone to make it easy for guests to reserve a table.
Jacksonville, Florida (PRWEB) February 02, 2013
The LeGrand's Steak & Seafood restaurant is now offering a special incentive for its guests every Wednesday evening. A new $14.95 all you can eat shrimp special is now part of the permanent menu. This incentive was suggested by the friendly service staff and is now available for the new fixed price. This new special is one way that guests are now able to sample the quality seafood that is served at this new local hot spot each day.
The lunch menu at LeGrand's was started earlier this month to help provide pleasing soups, salads and sandwiches inside a peaceful atmosphere for local workers and other guests. The success of this recent addition to the company has made it possible for management to open up the meeting room.
This new meeting area is designed exclusively for special events, parties and other business needs in a public place. Some of the top companies in the Jacksonville, Florida area have booked meetings at LeGrand's during the first part of this new year.
One of the ways that LeGrand's Steak & Seafood is providing more value to its guests is by issuing gift cards. These cards are offered in $25 increments and are designed to offer easy ways to sample the growing menus that are now available. A new 20 percent offer can be used with the purchase of a guest gift card to provide a bonus.
All gift cards that are loaded now receive a 20 percent bonus above the amount that is placed on the card. These cards can now be used for the steak and seafood menu and related items that are served to guests.
Reservations can be made online or by phone to make it easy for guests to reserve a table. All media inquiries, guest testimonials or menu item suggestions can be sent directly to LeGrand's management at the following address:
LeGrand's Steak and Seafood
11290 Old St. Augustine Road
Jacksonville, FL 32257
(904) 268-3663
About LeGrand's Steak & Seafood
The 2012 opening of LeGrand's Steak & Seafood has helped to bring new life into the Jacksonville area restaurant industry. As a casual and family-friendly restaurant, this company is helping to provide memorable guest experiences due to its talented staff and handmade fresh foods. The creation of the brunch, lunch and dinner menu items have helped this restaurant to make an impact with locals and tourists who enjoy great cuisine at affordable prices. New upgrades to LeGrand's Steak & Seafood include an 80-inch LCD television and a new media room that is used for business meetings, club meetings or private parties during regular business hours.