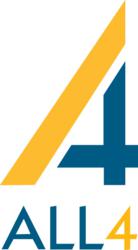 Our new office location will foster increased relationships with both the regulatory agencies and our clients. Colin McCall, SRO Director
Kimberton, Pennsylvania (PRWEB) June 14, 2013
All4 Inc. (ALL4), a leading environmental consulting company headquartered in the Philadelphia, PA suburb of Kimberton, announces the relocation of its Southeast Regional Office from Columbus to Kennesaw, GA as of July 1, 2013. ALL4 specializes in providing air quality consulting services to numerous heavily-regulated industries across the country; including but not limited to, pulp and paper, cement, waste management, power, agricultural, and automotive in the Southeast U.S. region.
Kennesaw is located approximately 27 miles northwest of Atlanta and will provide ALL4 with increased access to the network of engineering graduates and environmental professionals that are present in the greater Atlanta area. "We continue to project manufacturing growth in core business sectors that ALL4 supports with environmental services in the Southeast Region. We will continue to focus on growing our staff and client base in the Southeast Region and we have a tremendous group of professionals, led by Colin McCall, to build upon." said Bill Straub, ALL4's CEO and Principal.
Colin McCall will continue his role as the Southeast Regional Office Director and will be joined by Mark Wenclawiak who will continue to support clients as the Technical Manager in the region. They will be supported by additional engineering staff with varying backgrounds in the environmental industry; offering clients over 40 years' worth of expertise and knowledge.
Since opening its doors in 2010, ALL4'sSoutheast Regional Office has proven to be a great benefit to both ALL4's clientele and the company's strategic growth plan. ALL4 plans to maintain a presence in the Columbus, GA area while concentrating the Southeast Regional Office growth in the Kennesaw office. "The Southeast Regional Office has experienced tremendous growth in its first three years. Operating an office in the region has allowed us to expand relationships with existing clients and has positioned us to increase our participation and networking within regional, state, and local organizations. We have enjoyed being able to work closely with our clients in the region on a routine basis. Our new office location will foster increased relationships with both the regulatory agencies and our clients. In addition, it will provide us with enhanced recruiting opportunities given the network of engineering services in the greater Atlanta area. We are very excited about the move," said Colin McCall, Southeast Regional Office Director.
About ALL4 Inc.
ALL4 is an environmental consulting company that specializes in air quality consulting services; primarily assisting clients with complex air permitting and compliance, air quality dispersion modeling, ambient and meteorological monitoring, climate change, environmental program management, and environmental regulatory analysis. ALL4's office locations include headquarters in Kimberton, PA and a Southeast Regional Office in Kennesaw, Georgia. ALL4 is a "best in class" company with active growth plans in Pennsylvania and Georgia.
ALL4 has been recognized recently for its growth and work environment.
-ALL4 was named an Inc. Magazine and Winning Workplace 2010 Top Small Company Workplace.
-ALL4 has been named as one of the Top 10 in the Best Places to Work in PA in the medium-sized business category for each of the past four (4) years.
-ALL4 has been recognized as one of the 5,000 Fastest Growing Private Businesses in the U.S. by Inc. for each of the past five (5) years.
-ALL4 was also identified as one of the top 150 fastest growing Philadelphia companies by the Entrepreneurs' Forum of Greater Philadelphia in 2011 and 2012.
-ALL4 was awarded 1st Place nationally as one of the "Best Environmental Consulting Firms to Work For" and 2nd Place nationally as one of the "Best Small Environmental Consulting Firms to Work For." By ZweigWhite and Civil Engineering News.
For more information on ALL4, visit our website (http://www.all4inc.com), follow us on Twitter (@ALL4INC), search for ALL4 Inc. on Facebook, and find us on LinkedIn (Companies: All4 Inc.).
All4 Inc.
3370 Chastain Gardens Drive, Suite 210/220
Kennesaw, GA 30144
P: 908.328.9429
2393 Kimberton Road, P.O. Box 299
Kimberton, PA 19442-0299
P: 610.933.5246
http://www.all4inc.com
"Your environmental compliance is clearly our business."