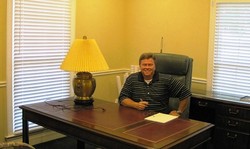 We are thrilled to create a physical ALL4 presence in the southeast. While we have serviced clients in this area since 2002, we believe that now is the right time and that we found the right person in Tony Owens to lead up this new office. Bill Straub,CEO
Kimberton, PA (PRWEB) August 2, 2010
All4 Inc. (ALL4), with headquarters in the Philadelphia, Pennsylvania suburb of Kimberton, announces the opening of ALL4's Southeast Regional Office in Columbus, Georgia. Columbus is located approximately 100 miles southwest of Atlanta and 90 miles east of Montgomery, Alabama. ALL4 also names Tony Owens, Sr. Consultant, as the Southeast Regional Office Director. ALL4 provides air quality consulting services to numerous heavily-regulated industries across the country; including pulp and paper, cement, waste management, power, and automotive in the southeast region. ALL4 plans to grow the Southeast Regional Office to ten people over the next three years.
"We are thrilled to create a physical ALL4 presence in the southeast. While we have serviced clients in this area since starting ALL4 in 2002, we believe that now is the right time and that we found the right person in Tony Owens to lead up this new office." said Bill Straub, ALL4's CEO and Principal.
ALL4's Tony Owens, Sr. Consultant, will lead up ALL4's Southeast Regional Office. Tony joins ALL4 with 25 years of environmental experience spanning the pulp and paper, wood products, mining, and chemical manufacturing industries. Tony holds a B.S in Chemical Engineering and M.S. in Civil Engineering from Auburn University. Tony is an active member of many associations and groups including: Auburn Pulp and Paper Foundation (Board of Directors), American Institute of Chemical Engineers, Alabama Clean Water Partnership (Board of Directors), Alabama Pulp and Paper Council, Tri-Rivers Waterways Association (Board of Directors), Georgia Pulp and Paper Association, Middle Chattahoochee Water Coalition (Board of Directors), TAPPI, Manufacture Alabama (Environmental Committee Chairman), and NCASI (Southern Region Technical Committee).
"I have watched ALL4 grow from the very beginning and have always been impressed by the ALL4 way of doing business. What has always impressed me about ALL4 is not only their strong focus and priority on client relationships and their technical ability to provide answers and solutions to their client's issues and challenges, but their focus and priority on their people and the importance they place on taking care of their employees and creating a positive and enjoyable workplace environment. This commitment is constantly being recognized by local, regional and national business groups. I am honored and very excited about joining the ALL4 team and being a part of the company's plans to increase their presence and expand the business in the Southeast. " Tony Owens, Southeast Regional Office Director.
About All4 Inc.
ALL4 is an environmental consulting company that specializes in air quality consulting services; primarily assisting clients with complex air permitting and compliance, air quality dispersion modeling, continuous, ambient and meteorological monitoring, climate change, environmental program management, and environmental regulatory analysis. ALL4's office locations include headquarters in Kimberton, PA and Southeast Regional office in Columbus, Georgia. ALL4 is a "best in class" company with active growth plans in Pennsylvania and Georgia. ALL4 has been recognized recently for its growth and work environment:
-ALL4 was named an Inc. Magazine and Winning Workplaces 2010 Top Small Company Workplace.
-ALL4 was named #7 in the Best Places to Work in PA in the medium-sized business category.
-For the second consecutive year, ALL4 was recognized as one of the 5,000 Fastest Growing Private Businesses in the U.S. by Inc.
-ALL4 was also identified as one of the top 150 fastest growing Philadelphia companies by the Entrepreneurs' Forum of Greater Philadelphia.
-ALL4 was awarded 4th Place nationally as one of the "Best Environmental Consulting Firms To Work For" and 2nd Place nationally as one of the "Best Small Environmental Consulting Firms To Work For." Both of the "Best Environmental Consulting Firm to Work For" awards were sponsored by the management consulting and research firm ZweigWhite and engineering media specialists Stagnito Media, publisher of Civil Engineering News, among other publications.
For more information on ALL4, visit our website (http://www.all4inc.com), follow us on Twitter (http://twitter.com/ALL4Inc), search for All4 Inc. on Facebook, and find us on LinkedIn (Companies: All4 Inc.).
All4 Inc.
5900 River Road, Suite 500
Columbus, GA 31904
p: 706.221.7688
2393 Kimberton Road, P.O. Box 299
Kimberton, PA 19442-0299
p: 610.933.5246
http://www.all4inc.com
"Your environmental compliance is clearly our business."
# # #