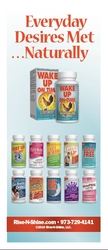 Sparta, N.J. (Vocus) June 11, 2010
Rise-N-Shine L.L.C., an all natural nutritional supplement company, has stated it will run a Buy 2, Get 1 Free Promotion up until June 20th, which is Father's Day. Rise-N-Shine has eleven nutritional supplements all dedicated to combat daily problems.
Go Away Gray, the most popular of the supplements, is a remarkable all natural supplement taken twice per day, and within 6-8 weeks, one's natural hair color begins to gradually grow back, eventually replacing all the grays if consumed long enough.
Wake Up On Time, a time released capsule that is taken 6-8 hours before bedtime, helps one wake up in the morning, but won't prevent one from falling asleep at night.
Stay Up All Day, an all natural, time released energy supplement formulated to give one energy for 8 hours.
Wrinkle Remedy, which is an all natural supplement that treats wrinkles from the inside out.
Don't Forget, which improves memory, clarity and thinking.
Stress free, which helps to eliminate the symptoms of stress & anxiety.
Sleep Tight All Night, an all natural formulation to help you fall asleep fast and stay
asleep all night long.
Light'n Up, a healthy weight loss supplement made with Acai.
Royal Flush, which is a safe & effective digestive cleansing product to jumpstart any weight loss regimen.
Menopause Chill Pills, which eliminate the symptoms of menopause through a combination of all natural herbs and other elements.
Get Healthy, which is a MultiVitamin that has everything needed and more to be healthy and to feel great.
All of Rise-N-Shine's products are manufactured for safety in the United States of America in a world class, fully climate-controlled, 150,000 square foot FDA-inspected facility that ensures purity and accuracy of materials through inspection and evaluation at every step of production and packaging.
To order or for more information, visit Rise-N-Shine's website, http://www.rise-n-shine.com.
About The Company
Rise-N-Shine, LLC was founded in 2006 by Cathy Beggan. A minority/woman owned business, Rise-N-Shine is continuously bringing groundbreaking products to the nutritional marketplace. Our company was founded on the foreground of providing natural solutions to everyday problems.
###