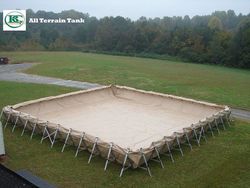 (PRWEB) June 24, 2008
Basic Concepts, Inc. has expanded its spill containment berm website with the addition of product pages highlighting the economical All Terrain Berm (ATB), Modular Channel Berm, Sentry Wash Down Spill Pad, Fail Safe Plus Spill Berm as well as other new spill control products.
The All Terrain Berm (patent pending), is the ideal solution for portable, large volume liquid storage. Applications include disaster relief, construction sites, industrial above ground storage tanks (ASTs) containment and the unit may also be used as secondary containment of fuel bladders and waste water bladders. Make sure you watch the Catastrophic Bladder Failure test at Ft. Lee, Virgina where the All Terrain Berm undergoes a worst case scenario test and performs successfully. A link to the video can be found on the All Terrain Berm product page.
The Sentry Wash Down Spill Pad is designed for the mobile wash market. Designed to assist in collecting wash water and prevent it from going down storm drains, the Sentry Wash Down Spill Pad is an effective tool in meeting strict storm water regulations.
The patented Modular Channel Berm provides full site spill containment under pipes, hoses and fittings. The Modular Channel Berm has been helpful with SPCC compliance at oil refineries and portable fueling stations with the U.S. Military.
Developed with the U.S. Military, the Fail Safe™ Plus Spill Berm is a natural line extension to Basic Concepts' spill berm offering. The Fail Safe™ Plus Spill Berm is designed to be deployed where tight turning radiuses exist. The lay flat design of the Fail Safe™ Plus Spill Berm offers the user the ability to drive onto the spill berm from any direction without damaging the side wall. Floatation along the side walls floats the walls up in the event of a spill. The lay flat design is also advantageous in high wind areas.
Additional features of the new user friendly website include a gallery area of spill containment application photos, an informative "How to Buy" page for Government customers and new video of several spill control products in use.
About Basic Concepts
Basic Concepts is a World War II veteran owned small business that manufactures environmental spill containment products. Founded in 1988, the company is celebrating its 20th year of serving a global market one customer at a time. Want to know more about Basic Concepts and its full line of secondary containment berms and oil spill products? Please contact Basic Concepts, Inc, 1310 Harris Bridge Rd, Anderson, SC 29621, telephone 1-800-285-4203 or visit the company website at http://www.basicconcepts.com.
# # #