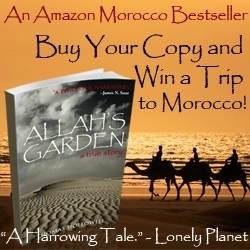 On this voyage, the winners will see the real Morocco, from its Imperial Cities to its golden dunes.
New York, NY (PRWEB) February 16, 2010
In an unprecedented giveaway, one author is taking his readers to the golden sands of Morocco by offering them a chance to win a private ten-day dream trip for two. Those who purchase a new copy of Allah's Garden: A True Story of a Forgotten War in the Sahara Desert of Morocco by Thomas Hollowell can enter the contest at Allahs-Garden.com after purchasing the title from Amazon.com.
"Travelers will not just take any trip," explains the author, Thomas Hollowell. "On this voyage, they will experience the real Morocco, from its Imperial Cities to its majestic golden dunes. It is an incredible opportunity to share a country that is rated one of the top ten places to travel in the world by Lonely Planet."
The "Buy a Book, Win a Trip Sweepstakes" is open until November 2010. "In the drawing, the winner will receive a certificate covering all in-country expenses for one of our deluxe itineraries, allowing them to choose customized travel dates in 2011 or 2012," explains Fazia Farrook, the in-country director at Journey Beyond Travel LLC offering quality Morocco tours to worldwide travelers. "We are one of Morocco's premier tour operators and are happy to combine our efforts with the author and Tales Press in order to promote Allah's Garden alongside our wonderful country."
Hollowell's book, Allah's Garden: A True Story of a Forgotten War in the Sahara Desert of Morocco (Tales Press, ISBN 978-0964142398), focuses on a Moroccan doctor's capture by the militant group known as the Polisario Front in Western Sahara and his subsequent 24-years captivity. The book intertwines the doctor's plight with the author's own time serving as a volunteer in the mountains of Morocco and their later meetings that unveil deadly secrets buried deep beneath the Saharan sands.
About The Author:
Thomas Hollowell is an author residing in Morocco. His writings on health, lifestyle, and travel have appeared in national and international publications. Please feel free to contact him at Thomas-Hollowell.com, or e-mail tom(at)thomashollowell(dot)com to schedule an interview or for additional information. To read more about the title and contest visit Allahs-Garden.com
About Journey Beyond Travel LLC:
Journey Beyond Travel LLC is an in-country Morocco tour operator arranging a variety of customized cultural holidays. They work closely with each of their clients to design the perfect getaway, honeymoon, or adventure. Visit them online at JourneyBeyondTravel.com.
###