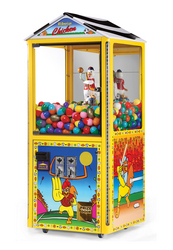 Our research has shown that our machines truly point to the future of all vending.
Oceanside, NY (PRWEB) February 25, 2011
Frank Parisi of All American Chicken, LLC reports that he has launched the most technologically advanced, children's amusement vending machine in the industry — The All American Chicken Vending Machine. This new vending machine is an "eggceptionally profitable" solution for operators.
"Our research has shown that our machines truly point to the future of all vending. Young children through teens and adults all want to be entertained. With the new All American Chicken, this vending machine provides a premium toy at the end of every transaction and a consistently delightful display of state-of-the art music, lights and motion," explains Parisi.
This machine — although modern in design with the addition of the dollar bill acceptor, optional token vends, multi-play discounts, and other advancements — touches on the nostalgia of the late 1970's and early 1980's of a famous chicken-themed vending machine which was a favorite of bulk operators throughout the industry. And with the improvement in the quality of the electronics and operation and the sturdy, all-steel construction, the new All American Chicken vending machine is already getting attention. As the latest innovation in themed vending machines, the All American Chicken plays all the popular American sports while he perches proudly atop hundreds of quality, toy-filled eggs. This machine will be at the forefront of a series of top-notch technologically driven machines that will be launched to both the national and international markets.
Prior to this new innovative engaging solution, previously avid vending machine enthusiasts were becoming increasingly less interested because machines were simply fading into the background of our high-impact, technology-saturated society. New potential customers — the youth of today — were simply not interested at all. So a more advanced solution was created. With the advances of the all American Chicken Machine providing unique incredible sound, animation, a spinning character, sturdy all steel construction, and most importantly to vendors and store locations alike — a small footprint with a big presence — children of all ages will watch in amazement as All American Chicken spins around to one of five custom-created music tracks and dispenses a fun-filled toy.
The machine accepts all US currency — the dollar bill acceptor with stacker is optional, and the 2 coin acceptors and meter come standard. The ability to vend with coins or tokens at different price points is a standard feature.
By having a machine that is entertaining as well as a product that provides a prize every time, customers are likely to spend more time at the machine with on-lookers engaged in the experience and deciding to "play" the machine as well. Return on investment is also determined to be high because the likelihood of someone playing the machine on repeated visits. To learn more about this product please call: All American Chicken at 1-888-GUMNTOY or visit http://www.allamericanchicken.com
ABOUT ALL AMERICAN CHICKEN, LLC
All American Chicken, LLC is managed by experienced industry professionals. Frank Parisi literally grew up in the vending business and has decided to create a product that answers the wants and needs in vending entertainment of today's technologically advanced youth and adults. Frank notes that everyone can remember their first machine. For Frank it arrived on the day of his birth. His first machine was a gift from the vending world's legendary Roger Folz (and his wife Adele), an icon in the vending industry for building a coast-to-coast bulk vending operation. Incidentally, Roger Folz placed his first gumball machine on August 22 — and on that very same day almost six decades later, the first prototype for the All American Chicken was completed.
###