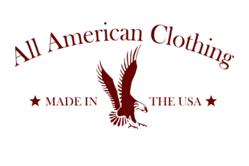 You are supporting our military men and women, our US citizens, our USA Jobs and the specific young family member who needs your gift of love.
(PRWEB) November 16, 2011
All American Clothing Co (AAC) announces its newest feature of helping customers to ship holiday gifts of clothing and increases the success of on time shipment arrival. They will help customers to prepare shipping information and then ship the packages to the young military men and women in the effort to help family and friends let loved ones know they care. The company has also implemented a 10% discount cost reduction for the purchases of the clothing on all orders sent to an APO/FPO address. In addition, AAC is donating a percentage of the gross sale to the Wounded Warrior Project. http://www.woundedwarriorproject.org/
To have delivery arrive by the Holidays, All American Clothing Co. suggested that if patrons order and ship by APO/FPO addresses, it be done now and not later than November 28. Make shipping arrangements by placing orders at http://www.allamericanclothing.com or call customer service at 888.937.8009. AAC will help customers with the shipping arrangements.
All American Clothing only manufactures USA Made jeans and casual pants, but also offers USA sourced accessories like shirts, jackets, etc... Alongside their signature jeans, they also offer a range of products that have been customer rated for years. So the consumer has actually had a strong influence on the designs of previous and new products. This system allowed the company to build a solid relationship with its customers. The process continues to create jobs while making and selling USA Made products. This is an opportunity to support USA jobs, USA servicemen/women and your country.
About All American Clothing Co.
All American Clothing Co. continues to create new, efficient ways for consumers to easily patronize USA Made companies and jobs. Now, with the onset of the APOs/FPOs assistance, customers have another opportunity to support American jobs, American families and American troops. All American Clothing Co. is a rare success story of a small apparel business in today's tough economy. The progress of this company relies totally upon the loyalty, the passion and the desire of Americans to help maintain USA manufacturing in the Unites States. AAC is helping the folks at home to show their passion not only for jobs, but also so for family and friends who are in the US military.
###