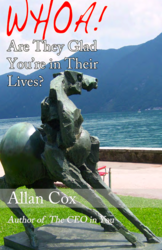 Whoa! will make you think and reflect and smile and grow...It will inspire you to pause, take a deep breath, be peacefully present and reconnect with your genuine self before charging on with renewed purpose
Chicago, IL (PRWEB) December 13, 2012
Celebrating the Amazon Kindle release of "WHOA! Are They Glad You're In Their Lives?" Allan Cox and Associates Inc. announces top CEO Advisor Allan Cox's latest masterpiece available for complimentary download in Kindle format during five day special promotion. Between December 13 and 17 2012 Allan Cox's "WHOA! Are They Glad You're In Their Lives?" will be available to the public in the Kindle store complimentary and can be instantly downloaded from Amazon to a Kindle e-reader, iPad , smartphone or computer. Previously available in full color print for $42.98, Cox's "WHOA!" will be available on Amazon Kindle for $9.99. following the five day complimentary offer.
"We all need an Allan Cox in our life; someone who energizes us to higher planes! WHOA! will make you think and reflect and smile and grow. In this delightful book, Allan will spark your senses through a unique combination of photography, poetry and gems of wisdom. It will inspire you to pause, take a deep breath, be peacefully present and reconnect with your genuine self before charging on with renewed purpose.", says Amanda Montgomery, Investment Officer, Head of Public Markets San Diego City Employees' Retirement Systems.
"WHOA!" is a 21st Century Handbook filled with 52 weeks of Allan's Tweets, contemporary four-color photography and his accessible poetry that guides readers to come of age as executives, parents, spouses and friends. This guide is designed to enable readers to reflect, reassess and tap into unique strengths while growing personally, professionally and spiritually.
"This is a book for which there is no prototype. Allan Cox provides an original way to unlock your creativity, to slow yourself down enough to think rather than react, to push to deeper reflection, and to allow you both to try new surfaces and to probe depths you might never otherwise have ventured. Through poems, photographs, and provocative tweets, Cox creates an environment for the executive who wants to reach beyond being merely successful to responding intuitively and sensitively and to being present for one's own life.", says Jill P. Baumgaertner, Ph.D., Professor of English, and Dean of Humanities and Theological Studies at Wheaton College.
Allan Cox advises America's CEOs, Top Teams, and Boards of Directors, to help them reach their highest levels of achievement and personal satisfaction. His problem-solving clarity focuses on facing and conquering the tough new challenges in corporate America today. To learn more about Allan Cox and"WHOA!" visit WhoaAreTheyGlad.com or allancox.com.