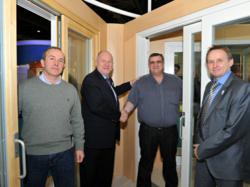 We are aiming for the Association of Energy Conscious Builders' silver standard and if successful this will be the first certified silver standard development in the UK
Hereford, England (PRWEB UK) 16 May 2011
Award winning developer IE Developments Ltd, which specialises in bespoke, high quality homes and has a reputation for its distinctive innovative approach, is about to embark on its most ambitious scheme yet.
The Hereford-based company has announced that it is building seven architect-designed contemporary homes in a rural location overlooking the Malvern Hills based on the highly energy efficient Passivhaus principles.
"We are aiming for the Association of Energy Conscious Builders' silver standard and if successful this will be the first certified silver standard development in the UK," said director Stuart Speight. "The houses will offer owners a property that should be around 80 per cent more energy efficient than a modern home built to current building regulations."
He added: "We are a company determined to embrace new technologies and stay at the forefront of the technology curve. If the development is successful it will create a building model for the future to achieve real energy efficiency to a definable standard. This will give the home owner a comfortable, high quality home that will be considerably less expensive to run than the mainstream housing stock."
IE will be using the Elite 92 triple glazed range of timber frame windows from Berwick-upon-Tweed-based Allan Brothers Ltd which this year is celebrating its bicentenary.
Sales director of Allan Brothers, Pat Rice said: "It is a privilege to be involved in such an innovative development with a company that believes in a partnership as opposed to low cost, price driven solutions."
Mr Speight said the design team had been faced with a number of issues to solve, including designing a totally new form of timber frame construction, using a brand new insulated foundation system along with being able to achieve a very stringent air tightness standard, etc.
"The fenestration, represents a major part of these contemporary designed homes. The large glazed areas raised several key issues ranging from insulation values and air tightness through to thermal bridging.
"We spoke with many window manufacturers before deciding on Allan Brothers and the choice was made an easy one due to several considerations," said Mr Speight. "Allan Brothers understood the problems facing us took ownership of the scheme and soon became a partner in providing us with real solutions. Their bespoke products, expertise and levels of service have been exemplary throughout and they have shown themselves to be a company prepared to become part of the design team on a project to project basis."
# # #