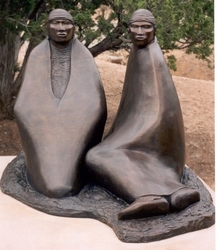 Unconquered: Allan Houser and the Legacy of One Apache Family
Santa Fe, NM (Vocus) October 1, 2009
Institutional demand is at an all-time high, with major artworks in the permanent collections of over 100 museums worldwide, and exhibitions planned through 2014. Opening this fall will be a major outdoor exhibit at the Phoenix Botanical Gardens (November 21 2009 – May 30,2010), a retrospective at the Heard Museum in Phoenix (November 21, 2009 - May 30, 2010), and an expanded version of "Unconquered: Allan Houser and the Legacy of One Apache Family" to be installed at the Gilcrease Museum in Tulsa, Oklahoma (November 21, 2009 - March 21).
The film produced in conjunction with this "Unconquered" exhibition has already been screened at film festivals across the United States with upcoming screenings at festivals and dates including: The Venice California Film Festival - Friday Oct 16 (opening night film); The Royal Flush Film Festival (NYC) - Friday Oct 16 at 6pm; Hot Springs Documentary Film Festival (Arkansas) - Oct 23-25; National Geographic's All Roads Film Project (Wash DC) - Wed Nov 4 at 7pm; Red Rock Film Festival (Utah) - Friday Nov 13 at 6:15pm; Santa Fe Film Festival - Dec 2-6.
"Demand has remained high, as the existing inventory of Allan Houser's lifetime bronze editions and unique sculpture continue to shrink," says company spokesman, David Rettig. "Allan Houser is among the most widely recognized American artists of the 20th Century, and his work has consistently appreciated in value."
Allan Houser was born on June 30th, 1914 in Apache, Oklahoma, The first child in his Chiricahua Apache family to be born in freedom after 27 years of imprisonment by the United States Government. He was among the first students trained at the Painting Studio at Santa Fe Indian School (1934-1938) and rose quickly to be the most widely recognized and collected of all Native American painters.
His first monumental sculpture came as a commission in 1948, but beginning in the early 1960s he refined and expanded his sculptural repertoire, integrating modernist aesthetics with that of his narrative painting tradition. He is credited by art historians and critics with having created a whole genre of sculptural work; his influence apparent in the sculpture of thousands of artists both Native and non-Native.
By the time of his death in August of 2004, he had received almost all possible accolades and awards including the National Medal of the Arts. In 2002 his monumental sculptures were presented to the International audience at the Salt Lake Winter Olympics, and in 2004 he was posthumously honored with a retrospective as an inaugural exhibition of the Smithsonian's National Museum of the American Indian.
For additional information about current and upcoming exhibitions contact:
Allan Houser Inc.
Phone (505) 471-9667
Email: fineart (at) allanhouser (dot) com
###