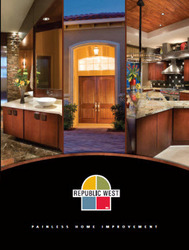 When we were presented with the challenge of helping Republic West improve their sales and marketing processes, we knew that we had our work cut out for us
Scottsdale, AZ (PRWEB) October 13, 2009
Allegra Marketing & Print, a leading marketing company in Scottsdale, AZ, has been providing innovative marketing services and products to clients since 1982. Allegra Marketing & Print takes the time to learn about every aspect of their clients' businesses, including those with a complicated sales process. One such client, a locally-owned home remodeling business, Republic West, has experienced significant results.
Republic West specializes in energy efficient window and door replacement, cabinet refacing, complete home remodeling including kitchens, bathrooms, home offices, entertainment centers and room additions. The company's vision is to create the best possible home improvement experience, before, during and after the completion of the project. Republic West is an operationally driven company that utilizes various disciplines, processes and procedures to help insure that it can deliver what is promised.
In early 2009, Republic West recognized that there were significant challenges in how their detailed sales process was being deployed and what marketing materials were being used. These challenges included: supporting articles that lacked focus and relevance, lack of consistency in branded materials between sales representatives, material with information that was not easily transferred to other decision makers not attending the sales presentation, and a disregard for Republic West's sales process.
"When we were presented with the challenge of helping Republic West improve their sales and marketing processes, we knew that we had our work cut out for us," said Ted Raymond, Vice President of Allegra Marketing & Print. "After the initial engagement, it was clear that there were at least three objectives that needed to be discovered before we could start to design their marketing collateral."
Those objectives, he continued, included: fully comprehending Republic West's sales process, identifying legacy collateral and understanding how the legacy collateral was being used in the field.
Allegra Marketing & Print developed the idea of condensing all sales material and supporting articles into one sophisticated comprehensive stand alone booklet. The new Republic West sales booklet would guide both the sales representative and the prospect through the company's selling model. The same would be true for one decision-maker to be able to walk another key buying influence through the material. Several times throughout the design process Several members of Republic West's sales team were engaged throughout the design process in order to gain early adoption.
"Allegra Marketing & Print took the time to learn about our company's sales process and developed a unique piece of collateral to support our team," stated Linda Zimmerman, co-owner of Republic West.
The new sales booklet has been in field use since May 2009. Republic West has abandoned other legacy sales collateral and relies solely on the sales booklet for presentations. Sales as a result of a single piece are hard to measure but newer, less seasoned sales representatives have experienced a higher closing ratio in the last three months. There is a significant cost saving by eliminating the need for support staff to reproduce articles and using expensive consumables.
About Allegra Marketing & Print
Allegra Marketing & Print, a leading marketing company in Scottsdale, AZ, has been providing innovative services and products to clients since 1982. Our award winning team of professionals is armed with the most current technology, resources and training. Our Mission is to be a trusted partner who provides marketing and printing solutions that contribute to the success of our clients. We are driven by success and determined to help achieve all of your project goals. Allegra Marketing and Print is one of the most powerful and integrated marketing and printing operations in Arizona.
We Care, We Listen, We Deliver. Don't take our word for it. Let us prove it.
Allegra Marketing & Print, specializes in marketing services that include print, direct marketing, design, business services, integrated marketing, personalized marketing and more.
For more information about Allegra Marketing & Print and how they can address your marketing and print needs in Scottsdale, Arizona and the Phoenix Metro area, visit Allegra Marketing & Print.
###