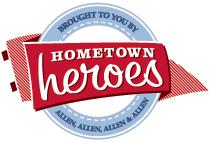 Richmond, VA (PRWEB) June 29, 2011
The personal injury law firm of Allen, Allen, Allen & Allen will announce the winners of its annual HOMETOWN HEROES award on Facebook on June 29, 2011 in honor of local individuals responsible for actions that improve communities throughout Virginia. The official announcement is designed to notify both the media and the community of the local acts of heroism exhibited by the selected recipients of the 2011 HOMETOWN HEROES award.
Attorneys of Allen & Allen will deliver the firm's video announcements at http://www.facebook.com/allen.and.allen in recognition of Hometown Heroes from across Richmond, Fredericksburg, Petersburg, and Charlottesville. Four different video announcements will be released, one for each locality from which heroes were selected.
Visit Allen, Allen, Allen & Allen on Facebook and LIKE the page. Then tune in on June 29, 2011 at the following times to view the announcements:
10:00 a.m.: Greater Richmond Hometown Heroes announced
10:30 a.m.: Fredericksburg Hometown Heroes announced
11:00 a.m.: Petersburg Hometown Heroes announced
11:30 a.m.: Charlottesville/Albemarle Hometown Heroes announced
"The Allen Law Firm has chosen our Facebook Page as the platform to debut the impressive list of winning 2011 Allen & Allen HOMETOWN HEROES because it represents a central community gathering place where the nominated heroes, the general community, and the media can gather to celebrate local heroism and the good deeds of those being honored," said President Douglas A. Barry.
Nominations for the HOMETOWN HEROES award were accepted from April 28, 2011 to May 27, 2011. The Facebook announcement on June 29, 2011 will feature the names of the selected heroes as well as details about events planned in each locality to celebrate the acts of kindness performed by local heroes.
"At the Allen Law Firm we're inspired by service and action," said Barry. "The HOMETOWN HEROES that we will announce on June 29, 2011 represent those that have changed our community for the better and therefore serve as an inspiration to all of us. This is our way of saying thank you."
In addition to HOMETOWN HEROES 2011, the law firm simultaneously launched an "Allen & Allen Good Deeds Tracker" that complements its goal of indentifying and measuring positive actions – no matter how large or small. Located on the Allen & Allen website, anyone can continue to submit a simple – yet impactful – act of kindness that they have performed or have witnessed around them. Allen & Allen will keep a running tally of good deeds taken in the community for the public to view their impact throughout the summer of 2011.
Questions? Call Emily Krause, at 804-257-7570.
About the Firm:
Allen, Allen, Allen & Allen is one of the oldest and largest law firms in Virginia limiting its practice to personal injury. In business for over 100 years, the firm currently has 22 attorneys who handle death cases as well as personal injury cases involving motor vehicle accidents, tractor-trailer accidents, brain injury, medical malpractice, product liability and more. Allen & Allen has eight offices located throughout Virginia in Richmond, Petersburg, Fredericksburg, Mechanicsville, Short Pump, Chesterfield County, Garrisonville, and Charlottesville.
###