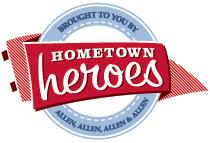 Richmond, VA (PRWEB) June 30, 2011
The personal injury law firm of Allen, Allen, Allen & Allen has announced 50 winners of the 2011 HOMETOWN HEROES award in celebration of local acts of kindness and heroism.
"It's time to celebrate," said Douglas A. Barry, President of Allen and Allen, in a video announcement delivered to the media and community on the firm's Facebook Page, http://www.facebook.com/allen.and.allen, on June 29, 2011. "The past 101 years of Allen & Allen have been inspired by those in the community, the real heroes who are responsible for improving the cities, small towns, and neighborhoods throughout the Commonwealth."
Nominations for the HOMETOWN HEROES award were accepted from April 28, 2011 to May 27, 2011. The public was asked to complete a nomination form in honor of their favorite local hero. "For the second year in a row we looked to the citizens of the Commonwealth to define what makes a hero," said Barry.
The winners of the 2011 HOMETOWN HEROES award include:
Veona Ackerman, Richmond
Alan Asef, Charlottesville
McClellan Bagby, Richmond
Tricia Barnes, Fredericksburg
David Boor, Lovingston
Marietta Brown, Petersburg
James Cullinan III, Hadensville
Rusty Davis, Spotsylvania
Cameron Evans, Midlothian
Joshua Finney, Richmond
Thomas Fish, Fredericksburg
Robert Fitts, Chesterfield
Mitch Fitzgerald, Jr., Batesville
Katie Goodman, Ashland
Ashley Gray, Bowling Green
Jett Greenstreet, Fredericksburg
Stacy Greer, Columbia
Chris Harris, Walkerton
Keith Hoge, Ruther Glen
Gina Hudson, Richmond
Charles Hunter, Jr., Triangle
Ryleigh Katstra, Charlottesville
Aaron Keller, Fredericksburg
George Kuhlow, Palmyra
Jane LaVerne, Hartfield
Peggy Law, Charlottesville
Branson Layne, Dillwyn
Mark Lorenzoni, Charlottesville
Jacqueline Lowry, Richmond
Sharon Mallory, Matoaca
Jackie Maroney, Chesterfield
Kathy Martin, Prince George
Kouri Mayhew, Ashland
Dana Nelson, Mechanicsville
Lisa Olsson, Fredericksburg
Tammy Ressler, Bumpass
Jesse Ressler, Bumpass
Brian Rich, Amelia Courthouse
Susan Rich, Amelia Courthouse
Rebecca Silverstein, Fredericksburg
James Smith, Bumpass
Kevin Smith, Glen Allen
John Stott, Fredericksburg
Tamara Tatum, Chester
Tierra Terrell, Petersburg
Franklin Thurston Sr., Richmond
Ashley Thweatt, Savannah
James Tupper, Charlottesville
Glen Wilkerson, Amelia Courthouse
Christopher Woody, Richmond
The selected HOMETOWN HEROES represent teachers, firemen, doctors, foster parents, disability advocates, neighborhood role models, and more. Each of the 50 individuals selected represent a unique and inspiring story of giving in some capacity, either on a large scale or through small everyday acts of kindness. To read about each of the HOMETOWN HEROES visit http://www.allenandallen.com/hometown-heroes.
The winning HOMETOWN HEROES will be honored at a series of award events taking place in Richmond, Petersburg, Fredericksburg, and Charlottesville. Throughout the summer Hometown Heroes will appear at various community events, including:
Schedule of Events:
July 9, 2011 – Petersburg Generals Baseball Game. Petersburg
July 20, 2011 – Innsbrook After Hours Elvis Costello Concert. Richmond
August 5, 2011 – Celebrate Virginia Big & Rich Concert. Fredericksburg
August 19, 2011 - Best of C-Ville Party. Charlottesville
For a complete list of summer events in honor of HOMETOWN HEROES visit http://www.allenandallen.com/hometown-heroes.
About the Firm:
Allen, Allen, Allen & Allen is one of the oldest and largest law firms in Virginia limiting its practice to personal injury. In business for over 100 years, the firm currently has 22 attorneys who handle death cases as well as personal injury cases involving motor vehicle accidents, tractor-trailer accidents, brain injury, medical malpractice, product liability and more. Allen & Allen has eight offices located throughout Virginia in Richmond, Petersburg, Fredericksburg, Mechanicsville, Short Pump, Chesterfield County, Garrisonville, and Charlottesville.
# # #