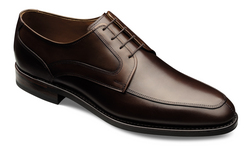 These shoes exude style and are ideal for any business situation
Port Washington, WI (Vocus) July 10, 2009
Allen Edmonds has introduced its new Executive Collection of business shoes with sleek narrow heels and dress rubber soles, designed for the business professional who prefers stylish shoes crafted for durability. Included in the line are five styles, each distinguished with sophisticated details, featuring four lace-ups and one loafer. The heel is narrow because of its 270° welted construction which reduces the width of the heel. The dress rubber soles are slip resistant and have the appearance of leather with the endurance of rubber to help withstand all types of weather. Any style can be Recrafted. The Executive Collection is available in stores and online in September. The retail price is $285 per pair.
"These shoes exude style and are ideal for any business situation," said Colin Hall, chief marketing officer at Allen Edmonds. "The unique welt construction is the primary reason for their sophisticated look. The weather resistant dress rubber soles is a feature that many men will appreciate, too."
All five styles have a heated cork layer under the forepart for orthotic-like custom comfort, and the heels are padded with Poron™ to assure instant, out of the box comfort. The shoes are even airport travel-friendly, because they don't have a metal shank, enhancing flexibility and comfort. All shoes are made of the finest European calfskin leather, which has tighter pores to hold a shine and resist wrinkling better than other leathers.
The Van Ness is distinguished by a sophisticated perfing detail across the cap toe and around the edge of the lace area. The Powell features a moc stitch that follows the contour of the top of the shoe. Double topstitching differentiates the Montgomery; it trails across the toe and vamp, meeting at the heel with two elegant curves. The Sutter is finely designed as a classic plain toe, which emphasizes its sleek lines. The lone loafer is the Presidio, an elegant penny loafer.
These shoes are the first styles from Allen Edmonds that feature 270° Goodyear welted construction, developed on an updated last. Any of the styles in the Executive Collection can be refurbished through Allen Edmonds Recrafting®, their extensive remanufacturing process. Using the original last (a foot-shaped mold) the shoes are completely overhauled, including replacing the heated cork layer and sole and re-stitching the welt. The process can be viewed in a video online at http://www.allenedmonds.com/recrafting.
About Allen Edmonds Shoe Corporation
Founded in 1922, Allen Edmonds Shoe Corporation is a privately held US based manufacturer of premium men's footwear and accessories. Taking shoemaking to the level of an art form, Allen Edmonds footwear is handcrafted in Port Washington, WI and Lewiston, ME using a 212-step production process. Allen Edmonds products are available at upscale stores worldwide, including 28 Allen Edmonds stores across the U.S., and online at http://www.allenedmonds.com.
Images Available
Images can be downloaded from
http://www.winsbyinc.com/ae/pr/exec_pr.html
through November 2009
Contact: Colin Hall
Office: 262-235-6672
# # #