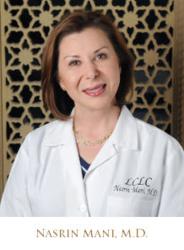 I'm honored that my efforts to promote the education of my patients has culminated in this association with Allergan.
San Diego, CA (PRWEB) November 02, 2011
Beginning physicians need mentors and teachers to help avoid injection "mistakes". Practice support staff need knowledge and training to help patients understand how products work and if those products are the right choice for that patient.
Part of Allergan's commitment to the safety and success of their product use is to select skilled physicians with high levels of product use and knowledge to present professional introduction of their injectable products Juvederm and Botox.
Dr. Nasrin Mani, a Board Certified Ophthalmology Surgeon in San Diego county and Founder of La Jolla Cosmetic Laser Clinic in La Jolla, CA., has been selected by Allergan, the makers of dermal filler Juvederm and wrinkle relaxer Botox, to act as a Physician Speaker.
Speakers introduce new and expanding practices to these successful products with information on the scientific action and appropriate uses in a first step toward the practices' contracting with Allergan.
Dr. Mani, already a 2010 San Diego Top Doc and Health Hero award winner, has recently been listed as one of America's Top Doctors for 2011-2012 through US News and World Report. She adds the new speaker role with Allergan to her existing physician training positions with Suneva Medical's Artefill permanent filler and Merz Aesthetic's Radiesse. Dr. Mani is a frequent guest on San Diego Living TV as an educator in their series on developing technology in the aesthetic arena.
La Jolla Cosmetic Laser Clinic claims the only 6 year running Thermage top award levels bestowed by Solta Medical. As a laser surgeon for many years, Dr. Mani maintains the latest technology in her clinic to provide the most significant benefits for her aesthetic customers. Explaining that technique is as important as technology, Dr. Mani's staff claims consistent results with skin tightening, pigmentation reduction and skin resurfacing.
On being appointed as an Allergan speaker, Dr. Mani shares, "I'm honored that my efforts to promote the education of my patients has culminated in this association with Allergan. Across the board, the use of Botox and Juvederm for what are often dramatic appearance improvements remains a staple for the thousands of men and women who wish to delay the effects of aging – and in this worried economy – the visual effects of the accompanying stress."
Allergan's dermal filler Juvederm is a top favorite in the clinic of both staff and patients. The soft gel is an excellent product for lip enhancement as well as mild to moderate wrinkle filling. Botox is the first-on-board wrinkle relaxer for eliminating frown and worry lines as well as over a dozen other off-label anti-aging applications.
As a training physician for the various dermal fillers, Dr. Mani is able to provide top-notch mentoring to her staff of Registered Nurses, Physician Assistant and the new Medical Director, Dr. Jasmine McLeod, who provides both aesthetic and medical dermatological treatments.
La Jolla Cosmetic Laser Clinic is located adjacent to downtown La Jolla at 1111 Torrey Pines Road. The practice website, http://www.LaJollaLaser.com, provides an educational platform for those who wish to learn more about aesthetic procedures. Practice telephone 858 454 2700.
# # #