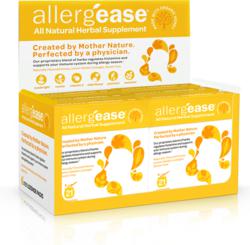 We're thrilled about this opportunity to introduce AllergEase to LivingSocial's users
Knoxville, TN (PRWEB) May 08, 2012
Reportedly the worst city in America for seasonal allergies, Knoxville, Tenn., has been prioritized as the first market in which daily deals site LivingSocial.com will extend an offer for AllergEase all natural honey-lemon herbal lozenges.
From May 8 through May 10, 6-packs of AllergEase will be sold to LivingSocial users for $17, a discount of 51 percent. The lozenges, which can be consumed alone or alongside other allergy medications, contain natural herbs (eyebright, nettle, elderflower, plantain, and menthol), organic honey, and a daily dose of Vitamin C. As Knoxville residents struggle to find solutions to high pollen counts that trigger uncomfortable symptoms, this three-day deal will give them the chance to try a new alternative at a deep discount.
"We're thrilled about this opportunity to introduce AllergEase to LivingSocial's users," says Zeeshan Kaba, the CEO and co-founder of AllergEase. "When you have a new product you know will truly benefit people, it's very rewarding to have the opportunity to reach them on a large scale."
AllergEase is currently a participant in DrugStore.com's Natural Sample Bag giveaway, and has been featured on magazine websites like AllYou.com and FitnessMagazine.com.
For more information or interviews with the creators of AllergEase, please contact press(at)aedrops(dot)com. Follow us on Twitter at @allergease or find us on Facebook at Facebook.com/allergease.