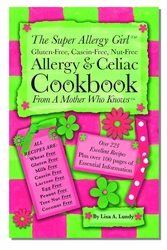 I applaud Betty Crocker for entering into this valuable and expansive market. It is very exciting. The issue is that many gluten-free baking mixes are formulated to be make with milk or eggs
Buffalo, N.Y. (Vocus) July 14, 2009
Cakes are a baked good that most often require eggs, milk and wheat or gluten to have the proper texture, appearance and taste. Individuals allergic to eggs, wheat, dairy and some nuts are often left out in the cold when it comes to parties, school events and other social gatherings where cake is being served. When Gloria Tilley, a mom of four children who have a broad spectrum of food allergies and celiac disease, wanted a white cake that was gluten-free, dairy-free, egg-free and nut-free, she knew just who to call - specialty cookbook author, Lisa A. Lundy. In direct response to Gloria's request, Lundy went to work and created a new, white cake free of all gluten, dairy, eggs, peanuts, tree nuts, and other allergens which you can download free from her website at http://www.TheSuperAllergyCookbook.com . The recipe is easy enough that Lundy's ten-year old son recently made it for his mom's birthday, which you can see in this short YouTube video.
The gluten-free diet has gained so much recognition that mainstream food manufacturers are either removing gluten, an amino acid sequence or protein found in wheat, barley, rye and other grains, from their food products or they are coming out with their own gluten-free products. Earlier in 2009, Betty Crocker announced that they were entering the specialty food market with a line of gluten-free baking mixes.
"I applaud Betty Crocker for entering into this valuable and expansive market. It is very exciting. The issue is that many gluten-free baking mixes are formulated to be make with milk or eggs," Lundy said. "It has been my experience over the last ten years that most gluten-free baking mixes fail miserably when you try to use an egg-substitution. While it remains to be seen if the Betty Crocker mixes will actually work without eggs, this is a huge cause for celebration."
With one of her three children severely allergic to eggs, Lundy's baking has to be absolutely egg free.
Lundy is the author of "The Super Allergy Girl™ Allergy & Celiac Cookbook -From A Mother Who Knows™", which is a gluten-free, casein-free, dairy-free, egg-free, peanut and tree-nut free and other allergen-free resource with over 100 pages of essential information and over 225 excellent recipes suitable for both beginners and advanced bakers. Her content rich website, http://www.TheSuperAllergyCookbook.com, is dedicated to helping people with food and health issues that can be resolved by dietary changes and it contains free white papers, tips sheets, recipes and videos designed to help people regardless of their food issues.
Coming up with a gluten-free, dairy-free, peanut free, tree nut free and egg-free cake was so difficult that Lundy had given up years ago until Gloria Tilley called in January with the special request for a white cake recipe. You can read about the "White Cake Conundrum" on Lisa's blog and see the comments from a mom in Australia who loves the cake recipe. Lundy is providing helpful information because she knows how desperate some people are for information and recipes. As a motivational speaker she is passionate about inspiring others to have a great life. Her book is available at: http://www.TheSuperAllergyCookbook.com.
Size: 6" x 9"
Pages: 405 pages
Soft Cover, Perfect Bound
ISBN#: 978-0-9797542-0-3
Price: $28.95
Contact: Ms. Lisa Lundy
Phone: (716) 835-6392
###