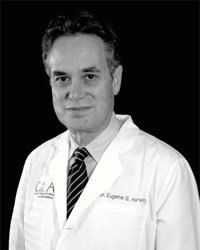 I couldn't believe the difference one night using allergy bedding made – and I could have kicked myself for not trying it sooner!
Atlanta, GA (PRWEB) July 7, 2010
This month's issue of the Allergy Consumer Report, AchooAllergy.com's monthly newsletter with a subscription base of over forty three thousand, launched the publication's "Allergist Interview" series. Slated to continue for two years and possibly longer, the series highlights the doctors who treat patients with allergies and the treatments they tend to prescribe for their patients – including allergy relief products like allergy bedding, mattress covers, air purifiers, vacuum cleaners and dehumidifiers.
AchooAllergy.com has a longstanding and close relationship with allergists across the country. In fact, it was an allergist's recommendation to try dust mite bedding that eventually prompted company founder P. Cade McDonald to start his own allergy relief products company. "I couldn't believe the difference one night using allergy bedding made – and I could have kicked myself for not trying it sooner!" Mr. McDonald says.
Making these allergy relief products, which had such an impact on Mr. McDonald's allergy symptoms, available to more and more people has since become the very aim of the company. AchooAllergy.com's relationship with allergists is in line with the company's core purpose of making you healthier and happier through allergy relief and environmental control.
AchooAllergy.com maintains a database of over four thousand referring allergists whom they communicate with regularly about new products, and to whom they send their catalogs, the Allergy Sufferer's Survival Guide. The company hopes to make patients' transitions from hearing about allergy relief products to enjoying their benefits as quick and seamless as possible by maintaining a presence within the allergists' offices.
But the relationship is twofold. Not only does AchooAllergy.com make their products available to consumers through their allergist network, but through their collaboration with allergists, they also stay abreast of the most up-to-date medical recommendations so that the products they offer their customers correspond to the latest scientific findings.
Interested readers can sign up to receive the Allergy Consumer Report on the company's Web site.
AchooAllergy.com specializes in allergy relief products that facilitate environmental control of allergens. For almost a decade, the company has been proud to offer the widest selection of allergy relief products, all meticulously tested for quality and effectiveness. Their super-fast shipping and exceptional customer service sets them apart from their competitors and demonstrates their unwavering dedication to helping their clients breathe better.
For more information, please contact Cade McDonald, CEO at 1-800-339-7123.
###