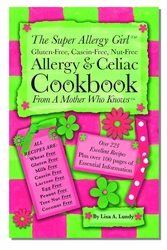 Buffalo, New York (Vocus) July 21, 2009
With an annual growth rate of over 25% over the last eight or more years, the gluten-free market is sizzling. Consumers considering the gluten-free diet can receive help in the form of a new video and a Gluten-Free Diet Beginner's Tip sheet offered by motivational speaker and cookbook author, Lisa A. Lundy, which can be downloaded free from her website, http://www.TheSuperAllergyCookbook.com ]. Ms. Lundy is the author of The Super Allergy Girl™ Allergy & Celiac Cookbook - From A Mother Who Knows™, a gluten-free, dairy-free, egg-free, peanut free, tree nut free and other allergen free resource that is appropriate for both beginner and advance bakers. Having spent over ten years in the gluten-free, allergy and celiac areas, Lundy has made many mistakes - mistakes that she shares to save consumers time, money, energy and unnecessary frustration.
Lundy has loaded her website, http://www.TheSuperAllergyCookbook.com ], with free downloadable videos, tip sheets, documents, white papers and recipes to help individuals who are either considering the gluten-free diet or who are already using the gluten-free diet. Gluten is an amino acid sequence found in wheat, barley, rye, spelt, kamut and some other gains. The gluten-free diet is a medical requirement for individuals who have celiac disease , and it is the protocol for people with gluten intolerance. According to current statistics, celiac disease affects nearly 1% of the U.S. population or 1 million Americans. Gluten intolerance is estimated to affect between 18 to 20 million people in the U.S. The gluten-free diet is widely used for health conditions including abdominal pain or bloating, gas, irritable bowel, Crohn's disease, ADD, ADHD, depression, anxiety, behavior issues, fibromyalgia and gastrointestinal issues like diarrhea and constipation. 97% of the people with celiac disease do not yet know that they have celiac disease, which is a sad statistic Ms. Lundy hopes to impact. "It is critical that individuals get tested for celiac disease before they start a gluten-free diet. Celiac disease carries with it medical implications and people with celiac disease require proper follow up and medical care. The classic mistake people make is to try the gluten-free diet to see if it will resolve a health issue without getting medically tested," Ms. Lundy stated.
Not all cookbooks that are advertised as gluten-free are in fact 100% free of all gluten, a fact that Ms. Lundy discovered 9 years ago when she was a novice in the gluten-free and celiac area. According to Lundy, consumers would be well advised not to eat too much rice while on the gluten-free diet since her son became allergic or intolerant to rice by age 2 after a mere 18 months on the gluten-free diet. Rice is the mainstay of the gluten-free diet and most commercially available gluten-free foods contain rice. When her 2-year old son became highly reactive to rice, Lundy was forced to make nearly everything he ate from scratch, a very painful experience that she would like other people avoid. It took over 3 years of completely avoiding rice before her son could tolerate rice in small quantities. Lundy's book contains over 100 pages of essential information relevant to the gluten-free diet including tips for baking, how to save time and money on special diets, symptoms of food allergies in infants and young children, explanations of gluten-free ingredients and much more.
Lundy's three children all have food allergies or intolerances and one has celiac disease. She knows that you can have great tasting foods minus the gluten or other allergens. She has taught gluten-free baking classes for many years, trained restaurants and consulted with bakeries in New York City and New Jersey. Her book contains over 225 delicious recipes from appetizers, soups, rolls, main dish meals to desserts and sweet treats, and is available at http://www.TheSuperAllergyCookbook.com.
Size: 6" x 9"
Pages: 405 pages
Soft Cover, Perfect Bound
ISBN#: 978-0-9797542-0-3
Price: $28.95
Contact: Ms. Lisa Lundy
Phone: (716) 835-6392
# # #