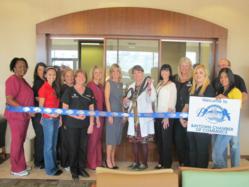 "After nineteen years in our previous Baytown location, we were overdue for an upgrade..." - Dr. Somerville
Baytown, TX (PRWEB) November 28, 2012
Allergy & Asthma Associates (AAA) recently hosted an open house for the relocation of their Baytown office. Patients, members of the community, and physicians were welcomed into the new location where they enjoyed refreshments, a raffle and a tour of the facility which includes state-of-the-art low dose CT imaging.
This new office offers ten exam rooms, a full staff of nine, and four providers consisting of allergists Laura Somerville, M.D., Ph.D., Kelvin Shaw, M.D., and Scott Oberhoff, M.D., ENT Ifepo Sofola, M.D., F.A.C.S. , and physician's assistant Kristina Benedict. High visibility signage and proximity to Interstate-10 makes the new location more convenient for patients to find and access. It adds even more convenience for patients by being located on the ground floor with front parking.
"After nineteen years in our previous Baytown location, we were overdue for an upgrade that would provide our patients with a modern layout," stated managing partner, Dr. Somerville. "The new office flow accommodates our multiple services, and the easy highway access caters to everyone –including our patients from east Texas and Louisiana."
The Baytown office is now located at 7599 Garth Road Suite 700, Baytown, TX 77521, adjacent to Texas Children's Pediatrics.
Serving the community since 1957, Allergy & Asthma Associates is now the largest allergy specialty group practice in the greater Houston area, with fifteen locations spanning southeast Texas. Most locations offer both specialized ENTs with advanced training in complex sinus surgery, rhinology, reconstructive and facial plastic surgery, and board certified allergists to provide a comprehensive treatment for sinus and allergic problems under one roof. AAA also provides a full complement of specialized services including adult and pediatric allergy, asthma, adult and pediatric ENT, facial plastic and reconstructive surgery, and CT sinus imaging. For more information please visit http://www.texallergy.com.